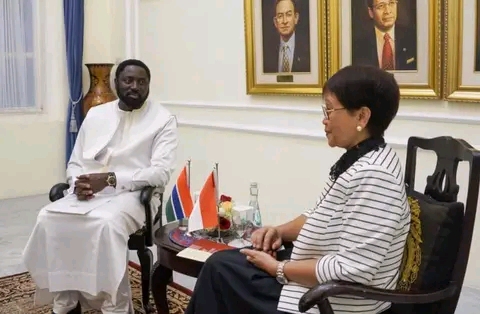 According to a press release, the honourable Minister of Foreign Affairs, International Cooperation and Gambians abroad Dr Mamadou Tangara, on Tuesday 24th January 2023 held a bilateral meeting with his Indonesian counterpart Her Excellency Retno Marsudi at the Pancasila building, Jakarta where he has been given assurance that Indonesia will support The Gambla to successfully hold the organization of Islamic Conference Summit.
The despatch added that Indonesian Foreign Minister, Retno stated Indonesia's support for The Gambia to host the 15th summit of the Organization of Islamic Cooperation (OIC).
She expressed hope that the OIC summit which will be held later this year can bring concrete results.
"Indonesia supports Gambia to be able to produce cooperation that can benefit the people of OIC member countries through cooperation to fulfil the right to education for Afghan women, as well as cooperation to strengthen capacity in agriculture," Minister Retno said in a statement.
The Minister expressed her readiness to provide protocol training and international trials to The Gambia in order to increase the country's readiness to host the OIC summit.
Apart from discussing cooperation within the framework of the OIC project, the two foreign ministers also discussed different opportunities to increase bilateral cooperation.