Gambian plans to use his UK degree to save his country's peanuts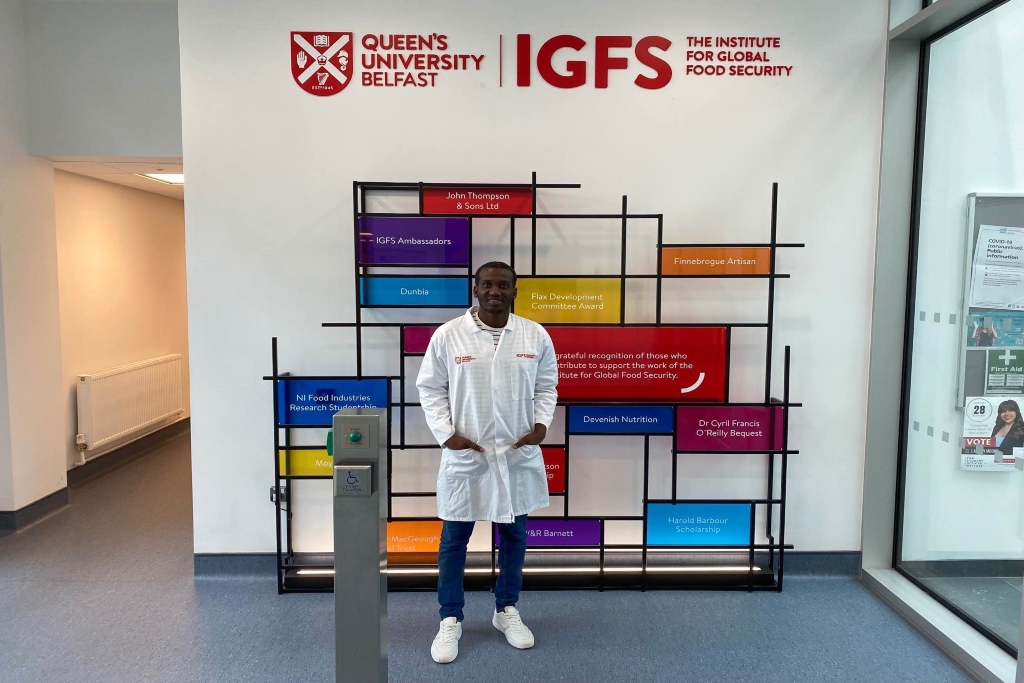 Abdoulie Jallow is on a mission to save the peanut industry in Gambia.
Abdoulie Jallow has had an eventful few years in his pursuit of a master's degree from Queen's University Belfast.
It involved a mission to save peanuts infected by toxins and a pitstop in China.
In 2020, when he first left his home country Gambia for China to earn a master's degree in food safety, never in his wildest dreams did he think he would spend most of his time there cooped up in his room.
Or that he would be in Wuhan — China's COVID-19 ground zero.
International students, here are 6 American snacks to send home to your family
Jallow was there to pursue his strong passion for food processing and to build on his bachelor's degree in the field, previously earned from a Venezuelan university.
He had experience working with the Food Safety and Quality Authority in Gambia, helping to spur the nation's economy, which is 60% based on agriculture.
Peanuts were a key product — but there was a problem. Toxins in them have caused the downfall of the peanut industry, and many Gambian farmers are losing money.
This sparked Jallow's interest to find the toxins in these peanuts — and set him off to International Association for Food Protection meetings in the US.
"Then, from there, I met some people who were studying in China, and it piqued my interest. So, I applied for a scholarship to further my education in China," he says.
"China is one of the leading publishers in terms of food toxic and intoxicants in the world. They are well equipped with professionals and modern equipment for me to further my knowledge."
A scholarship to study food science at the Chinese Academy of Agricultural Sciences — and Jallow was soon packing his bags for Beijing to learn basic Mandarin before starting his degree.
Although a polyglot, he found this tough. "It is really difficult, especially the pronunciation of words," Jallow says.
Jallow travelled to Wuhan to complete a master's programme in food science. Source: Abdoulie Jallow
From the pandemic's ground zero to Queen's University Belfast
Then, in January 2020, Jallow finally set foot in Wuhan to start his long-awaited research.
"But all hell broke loose, everything started happening," he says. "It was a complete lockdown, nothing like what we do in university."
Being a foreigner in a new country was bad enough but throw in being quarantined, and the struggles multiplied.
"It was difficult to get food. There was this international student who was communicating with us and dropping food at our doors," says Jallow.
Yet, that wasn't the worst of his problems. Soon, drinking water ran out.
"In Wuhan, you have to buy water, and the person who was delivering water to us was unable to do so," Jallow says.
Desperate, he turned to his professor, who advised him to start boiling water. "The first few days in Wuhan were really tough," he shares.
Being cooped up in his room wasn't easy. "I only knew my professor and a Pakistani student that I met there. I became lonely and scared and even considered going home," he says.
However, Jallow did not want to return without accomplishing his goal of obtaining his master's so he switched on his laptop and began applying.
To his surprise, he received an email from the British High Commissioner notifying him that he was selected for an interview for a Chevening Scholarship.
Unfortunately, as he was in China, he wasn't sure if he would be able to attend the interview. "It was tricky, but I explained my situation to them, and they agreed to an online interview," Jallow says.
Abdoulie Jallow graduated from Queen's University Belfast after receiving a Chevening Scholarship. Source: Abdoulie Jallow
Once more, Jallow won the scholarship. This time, he was bound to pursue a master's degree in advanced food safety at Queen's University Belfast.
Today, he's back in Gambia, where he plans to use the skills and knowledge he has gained to help his country.
"I really want to make an impact in terms of food safety and food availability for the people," he says.
"I am going to start work with the Food Safety and Quality Authority in Gambia as a senior officer and work on achieving my goals," he shares.