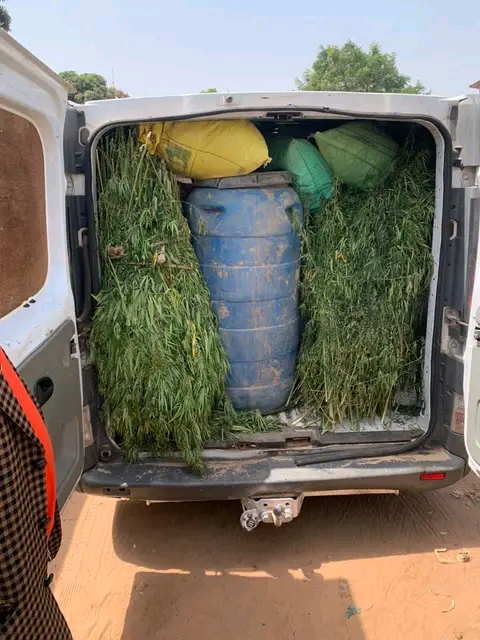 A media despatch from the anti-drug operatives indicates a large seizure of suspected drugs.
"Barely a week after apprehending a Nigerian National with eleven thousand three hundred and forty (11,340) pills of ecstasy at Sanchaba Sulay Jobe, DLEAG operatives with backup support from the PIU registered another significant seizure of cannabis sativa, cannabis seeds, and hashish on the 10th February 2023 around 07:15 hours GMT onwards at Kamosorr and Jakin village in Foni Bintang, West Coast Region. "
The release added that the sting operation led to the apprehension of eighteen (18) adult males and three (3) female Gambian Nationals. Operatives also recovered five hundred and sixteen (516) bundles of cannabis sativa, two hundred and eight (208) cultivated cannabis plants, one (1) big bunch of harvested cannabis plants, eighty-eight (88) bags filled with cannabis sativa, four (4) twenty litres gallon filled with cannabis sativa, another four (4) twenty litres gallon filled with cannabis seeds, one (1) one point five (1.5) litres filled with cannabis sativa, three (3) bags containing seeds of cannabis and two (2) big stones of cannabis resin (Hashish).
anti-drug operatives said all the suspects are currently in custody while operatives further probe into the matter.
"The seizures highlight the daunting challenges anti-narcotic agencies face in their quest to abate drugs and related activities. It also shows the adamance of illicit drug traffickers and their associates to fill our streets and communities with their illicit products despite being aware of the harm it causes to people and the danger it poses to society. Therefore, we must collectively work together in abating this menace and keeping our communities safe, secure, and drug-free. "
"We use this opportunity to call on residents of the country, particularly those living around the border areas to remain vigilant, and alert and report suspicious activities to law enforcement operatives. In doing so, we will help keep ourselves, our families, and societies healthy, safe, and drug-free."