Nigeria' s elctoral body chair briefs stakeholders as he officially opens collation centre.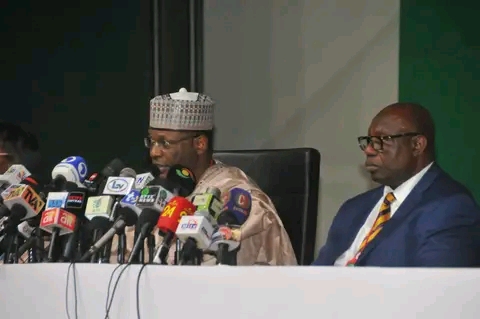 The chairman of the Independent National Electoral Commission of Nigeria(INEC)Mr. Mahmood Yakubu on Sunday officially opened the presidential election collation center in Abuja, where he briefed stakeholders on key procedures in the process.
"collation of presidential election results in Nigeria is done at four levels after the conclusion of voting, counting, and recording of results at Polling Unit level. The results are first tallied and collated at the 8,809 Registration Areas (or Wards). The collated Wards level results are tallied and collated at the 774 Local Government Areas nationwide. Thereafter, they are tallied and collated at each of the 36 States of the Federation and the Federal Capital Territory (FCT). The collated figures for each State and FCT are finally collated here in Abuja where the announcement of the outcome of the election is made."
He stated that all accredited polling agents, observers, the media, the diplomatic community, and security agencies should adhere to the sitting positions assigned to them;
"Results for each State of the Federation and the Federal Capital Territory (FCT) shall be presented by the State Collation Officer for the Presidential Election (SCOPE) who also served as the Collation Officer at State/FCT-level. After collating the result at the State level, the SCOPE shall be accompanied to Abuja by the Resident Electoral Commissioner (REC) and security agencies."
. On arrival at the Collation Centre, he added, the SCOPE shall be received by the Collation Secretariat which shall organize the sequence of presentation.
" The Returning Officer shall invite the SCOPE, accompanied by the REC, to the seat provided for the presentation of the result. The SCOPE, following the format for the presentation of results, shall loudly announce the votes scored by each political party in the State, including reports of cancellations and areas where elections did not hold (if any).
INEC chair said the Returning Officer then invites comments and observations (if any) from the polling agents. The Returning Officer requests the SCOPE to submit the original copy of the EC8D
" When all the SCOPES have presented their results, the Returning Officer shall display the sealed copies of the Results sheets – EC8DA  (Summary of Results of Elections on State-by-State Basis), EC8E (the Declaration of Results of the Elections) and EC40G(3) (summary of registered voters in polling units where elections were canceled or not held."
Mr. Yankuba explained in detail abe entire procedure and said the commission shall brief the media accordingly.