ECOWAS Observing Sierra Leone Elections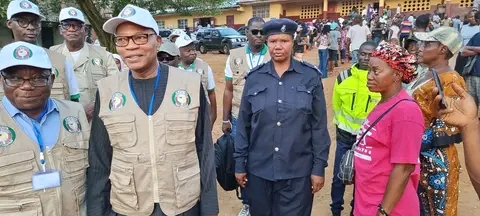 Some 3,374,258 voters out of an estimated population of 8.7 million went to the polls on Saturday, June 24, 2023, to elect a new President, Members of Parliament, and Local Councilors. Thirteen candidates from 17 registered political parties are running for the Presidency, while 135 seats in Parliament and 493 in the Local Council are also in contention.
Voting is taking place in 11,832 polling stations in 3,630 polling centres across the country's 16 electoral districts.
In the early hours of the day, a delegation led by Dr Mohamed Ibn Chambas, Head of the ECOWAS Election Observation Mission in Sierra Leone, visited several Polling Centres in the nation's capital, to observe the electoral process. The centres visited, included Aberdeen Municipal Primary School, Logos Academy Primary Secondary School" and Wilberforce Barracks in Freetown Western Urban Area.
Dr Mohamed Ibn Chambas accompanied by Amb. Ansumana Ceesay, Deputy Head of Mission, Amb. Ab-del-Fatau Musah, Commissioner for Political Affairs, Peace and Security, Amb. Harouna Moussa, ECO-WAS Resident Representative in Sierra Leone, Amb. Joao Ribeiro Butiam Co Honorable and Edwin Melvin Snowe, member of the ECOWAS Parliament, also visited the ECOWAS Situation Room where they received an initial briefing from the ECOWAS technical team responsible for compiling reports from observers deployed in the field.
The Head of Mission and his delegation observed the slow start of the electoral process but noted that the process would pick up during the day.
The Mission observed the large number of voters in the queues and commended them for their discipline and orderliness.
The Mission noted that no major incidents had been reported and appreciated the "peaceful climate" despite the delay in the commencement exercise in some polling centres.
Dr Chambas reiterated his appeal to Sierra Leoneans to persevere in democracy and urged the Electoral Commission for Sierra Leone (ECSL), to conduct the elections with dedication and professionalism.
Apart from ECOWAS, there are other international Observers from the African Union (AU), the European Union, the Commonwealth, the Carter Foundation, the ECOWAS Network of Electoral Commissions (RE-SEAO/ECONEC), and Sierra Leonean civil society.
The ECOWAS Observation Mission is expected to issue its preliminary Report on the elections on Monday. June 26, 2023.