Prominent Gambian Journalist,Mamour. M Mbenga(Kifa) is the brand Ambassador of DLEAG.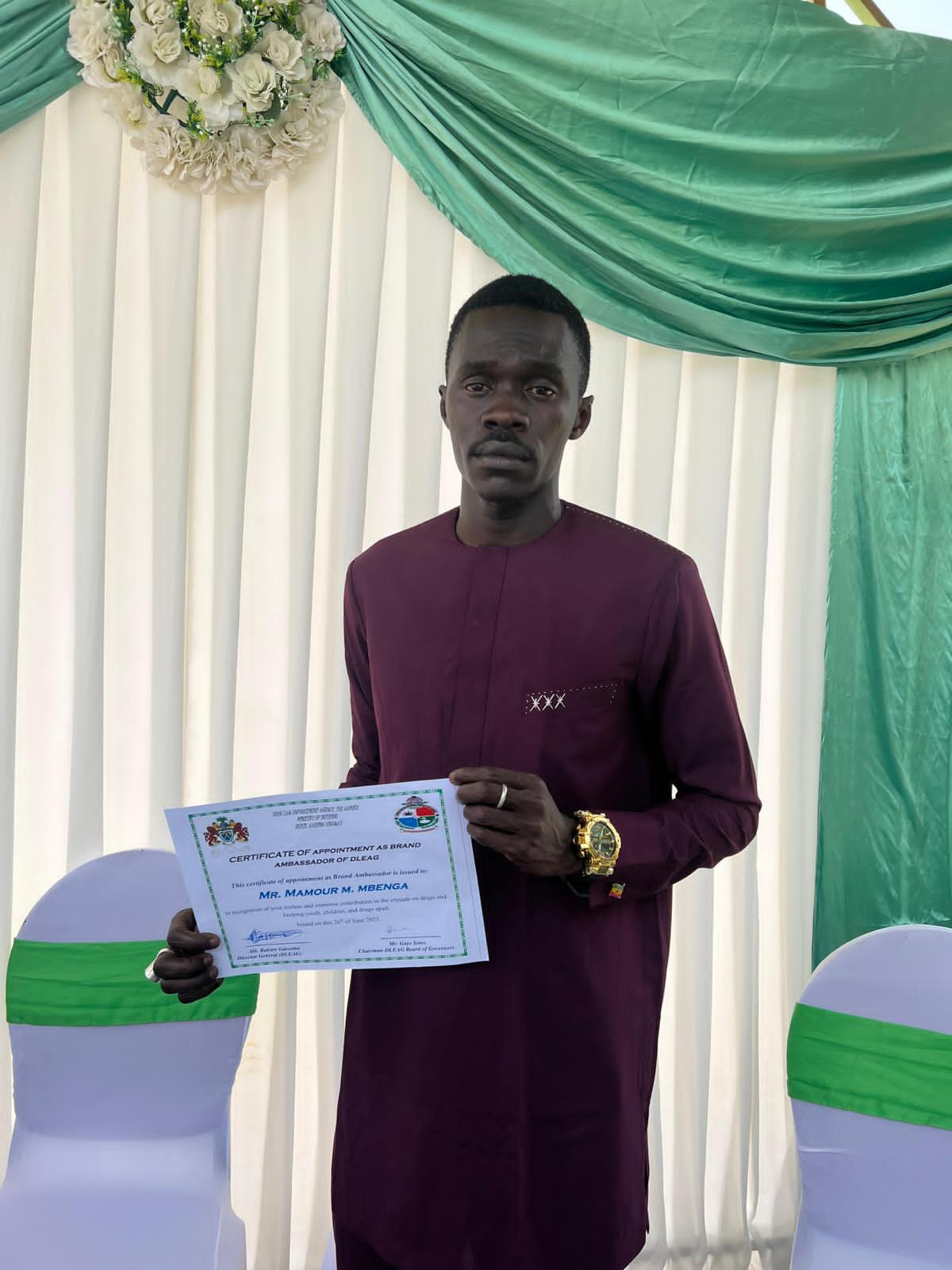 The Drug Law Enforcement Agency in The Gambia while commemorating World Drug Day recently,  accolades Mr. Mamour. M Mbenga commonly known as Kifa Barham is the agency's official Brand Ambassador.
On the occasion of the commemoration of the International Day Against Drug Abuse, Illicit Drug Trafficking, the Director General Mr. Bakary Gassama of the narcotic agency announced in an official statement at the Youth Monument in West Field.
"I would like to take this opportunity to announce that the Agency has appointed Mr. Mamour. M Mbenga is our official Brand Ambassador. Mr. Mbenga's case is a clear manifestation that we can win the battle against Substance Use Disorders. He has not only succeeded in turning his life around but has been very instrumental in reforming the lives of several youths who are facing challenges."
"I would therefore on behalf of the Board Management and staff of Dleag not only declare your appointment as a Brand Ambassador but to also thank you for the good work and encourage you to continue making a difference and positively impacting the lives of our children and youth".
"Be assured of our collaboration, we commend, celebrate, and pray for you. You have been committed to this cause irrespective of the challenges. You have demonstrated that you value the Gambia above all, may Allah bless your efforts and reward you abundantly" he said.
DG, Gassama further said it is through collaboration and partnership that the agency can achieve positive development and a vision for a drug-free nation.
He said it will help collectively to overcome the devastating consequences of misinformation in promoting illicit drug trafficking and abuse.
The Narcotic Boss recommends the efforts of The Gambia Government, Dleaf staff, line Ministries, NGOs, UNODC, CSOs, Drug-Free Clubs, media, and other stakeholders for leaving no stone unturned in ensuring that it effectively and efficiently bridle drugs and keep our communities healthy, safe, and drug-free.
The Agency Director General stressed that his management will not be distracted, nor will be frustrated in fulfilling their mandate and promoting organizational excellence.
He further encourages the public to maintain the same trajectory and collaboration with the agency in countering all forms of misinformation about drugs and related drug trafficking activities.
The Permanent Secretary of, the Ministry of Interior Mr. Assan Tangara delivered a statement on behalf of the Chairman of the Dleag Board of Governors.
He appreciates the tremendous effort of the Arms and Security services and most especially DLEAG Operatives for their continued sacrifice and relentless hard work in bridling drugs and crime-related activities.
PS, Tangara applaud the efforts of DG Gassama and his management for their distinguished transformational leadership qualities that his team manifested in transforming Dleag to an institution that has gained the respect and recognition of its peers and partners within the global anti–narcotic community.
PS, Tangara stressed that illicit drug trafficking and abuse continue to wreak havoc on individuals, families, societies, and nations across the globe.
He said millions of people have lost their lives as they become addicted to these Substances and most of them are youth who are the creams of society and future leaders.
He said abating drugs is not only the responsibility of Law Enforcement entities but as well the duty of every citizen and resident to participate in creating an enabling environment.
PS, Tangara further recognized and was grateful for the efforts of Mr. Mbenga for making great progress and change in society.
He encourages him to maintain the hard work and effort that the nation is proud of him.
Mamoru. M Mbenga at the occasion received the Certificate and Letter of Appointment during the public gathering while he dedicated the recognition to his Mother, the Late Imam Barham Jobe, and his Uncle in England who has been very much supportive of his change.
Mbenga a practicing Journalist, social development worker, and community youth leader calls it a dream come true.
He said with tears during the speech that he started smoking all types of tobacco at the age of fifteen (15) years old which further triggers his addiction to other illicit drugs.
Mr. Mbenga popularly known as Kifa Barham emotionally expressed his delight and story during the commemoration day.
"I furthermore extend my warmest greetings to the President of the Republic of the Gambia, Mr. Adama Barrow, UNODC, National Youth Council, Service Chiefs, Dleag staff, my family, and all stakeholders seated in this important gathering".
"This year marks another great achievement in my career goal; although I was not expecting that Gambians recognize my commitment and advocacy in the crusade to fight against substance abuse, drug trafficking, and crimes in the community".
"I am now a change person, an agent of change, and a role model to many youths of this country, it was not an easy task but with the support and blessing of my mother, the late Imam Barham Jobe a special idol and my uncle Musa Bala Sarr who supported me to believe in myself.
After the wind of change I decided to voluntarily engage the public in partnership with Dleag to participate in public advocacy and share my story as a motivational tool to inspire those involved in illicit drugs" he said.
Kifa regrets all his wrongdoings and suicidal behavior in public and promises to fulfill his commitment and participation in abating drug abuse and crimes.
He said many of his colleagues whose drugs have ruined thcareersreer and even face legal punishment could not achieve their dreams.
He added Allah has reserved him today to share his story and inspire the future generation as a God send to people.
Mamoru. M Mbenga has now successfully achieved many qualifications and skills within a decade of being a changed person.
He is now a practicing journalist, Substance Use Disorder Counselor on Universal Treatment Curriculum(UTC), Sports Administrative Mana, ger and a Sailor who works with maritime shipping companies on sailing contracts.
He now owns an online media company; Africa Citizen Radio, and established a grassroots football club and a community organization that aims at abating drug abuse and crime-related activities.e