The Gambia joins OEC as its newest Member State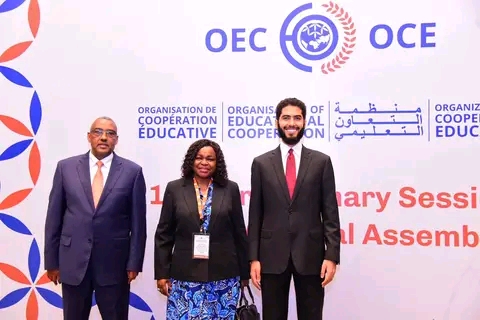 The Republic of The Gambia has been admitted to join the Organisation of Educational Cooperation, becoming the newest member of the Global South Organisation.
The decision was taken on 27th June 2023, at the opening of the 1st Extraordinary Session of the General Assembly taking place in Addis Ababa, Ethiopia.
The decision followed the General Assembly's consideration and adoption of the evaluation report by the Secretary-General, Manssour Bin Mussallam, regarding The Gambia's fulfillment of all the application procedures for State Membership.
In his report, the Secretary-General stated that following his official visits to The Gambia, in the context of official visits to several Member States, Founding Members, and other countries which have expressed interest to join the Organisation, authorities in Banjul expressed interest to join the Organisation.
Subsequently, The Gambia submitted its application to the Secretary-General containing the necessary documents such as the signed pages of the OEC Constitutive Charter, the Universal Declaration of Balanced and Inclusive Education as well as the Instrument of Acceptance.
"The Secretary-General has evaluated The Gambia's application and reached a conclusion that it meets all procedures and conditions outlined in the General Assembly Resolution GA/RES/18," the report read it part.
On presentation of the report, the General Assembly unanimously adopted it and accepted The Gambia's membership.
Speaking after the passing of the Resolution and assuming the Member State seat, The Gambia's Minister of Primary and Secondary Education, Claudiana Cole, said her country's admission into the Organisation was a significant step in the country's journey for social-economic transformation through joining like-minded countries, with shared aspirations and committed to championing systemic educational transformation and development.
The Minister appreciated the Secretary-General for the positive recommendation and the General Assembly for unanimously supporting the Resolution. She pledged The Gambia's full and active participation in the implementation of the Collective Programme of Member States.
In welcoming The Gambia into the Organisation, the General Assembly appreciated the Secretary-General for his fruitful efforts to promote the Organisation across the vast global south geography and for assisting interested States in efficiently completing the necessary procedures for Membership.