"We have planted over 5,000 trees so far"-BAC Chairman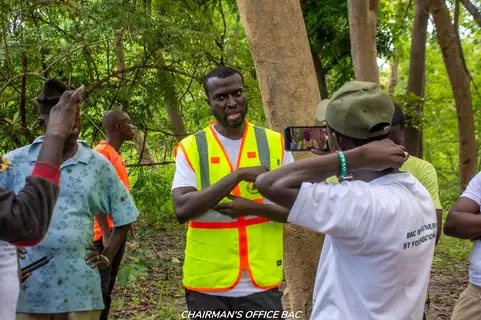 While delivering a brief statement of appreciation in Omorto on Saturday, the chairman of the Brikama Area Council, Lawyer Yankuba Darboe revealed that the BAC Green Initiative successfully planted over 5,000 trees so far.
On Saturday, Chairman and team participated  in tree plantings in Kembujeh,Pirang and the border settlement of Omorto.
" We have planted over 5,000 trees so far.People will continue to cut down trees but hopefully if we keep doing this annually,in the rainy season,it will help to curb the effect of climate change.This is not the end,we will  continue to plant more trees and hopefully next year we will try to double what we have planted this year.St Foundation has been doing this and this year they are partnering with BAC.I thank them"
Chairman Darboe thanked  all those who supported   the BAC Green Initiative while hoping to see more people partnering with them next year.
In a separate engagement, Chairman Darboe despite his busy schedule, officially inaugurated the Pirang Community Market on Saturday.
The market was fully refurbished through a community initiative but chairman Darboe hinted that his administration will table the motion of refunding the amount of money spent by the community of Pirang in refurbishing their market.