Basse Area Council Chairman inspects collapsed foot bridge.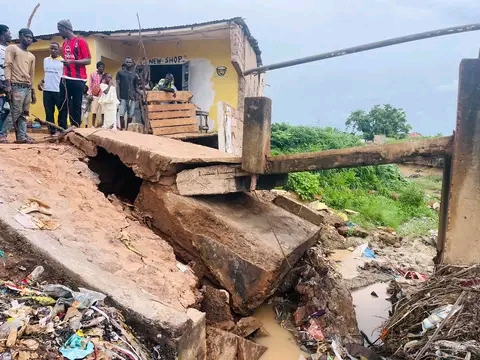 In a bid to ascertain the extent of damages on ' Kaba Kama' foot bridge,the Chairman of the Basse Area Council Mahamadou Ceesay on Monday morning inspected the bridge.
According to an update on the council's platform, the a heavy downpour of rain last night caused the collapse.
" Attention of the management of the Basse Area Council has been drawn to the unfortunate collapse of one of the Basse Kaba Kama footbridges following heavy rainfall last night
The Chairman Mahamadou Ceesay alongside some council officials paid an immediate visit to the site on Monday morning to gauge the level of the damage. "
The council revealed that in 2019, an amount of  D225,655 has been spent to rehabilitate.
As the council working on modalities to fix the collapsed bridge,Chairman Ceesay gave a directive for a temporal restriction on the usage of the bridge citing safety concerns.