President Barrow bid farewell to Senegalese contingent of ECOMIG.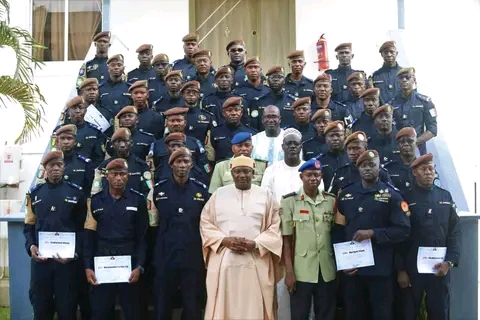 President Adama Barrow on.Friday bid farewell to the Senegalese contingent of ECOMIG at the State House, who served the presidency ranging 3-6 years supporting the office and household.
The President commended the contingent for diligently serving The Gambia for years, further strengthening the fraternal ties. He equally expressed gratitude to the Senegalese President and ECOWAS for standing by The Gambia in the time of need.
"The relationship has grown through marriage and children of dual citizenship. You have raised the Senegalese flag in The Gambia, and I call on you to be an Ambassador for the Gambia, for we can also be your reference." President Barrow noted.
A representative of the commander, Lieutenant Jabong, said they are happy to be going back to their families after a successful mission.
He commended the Gambian colleagues at the State Guard and the GAF. He added that professional relations and consultations would continue.
The Commander State Guards (SG), Sait Njie, described the contingent as professional, disciplined and respectful. He thanked them for their services and cordiality with the SG battalion.
Commander Njie assured them that they could always feel at home while in The Gambia because they had built relationships and friendships with the Gambia and urged them to maintain the communication between them.