Ethiopian Airlines Company eyes Gambia as destination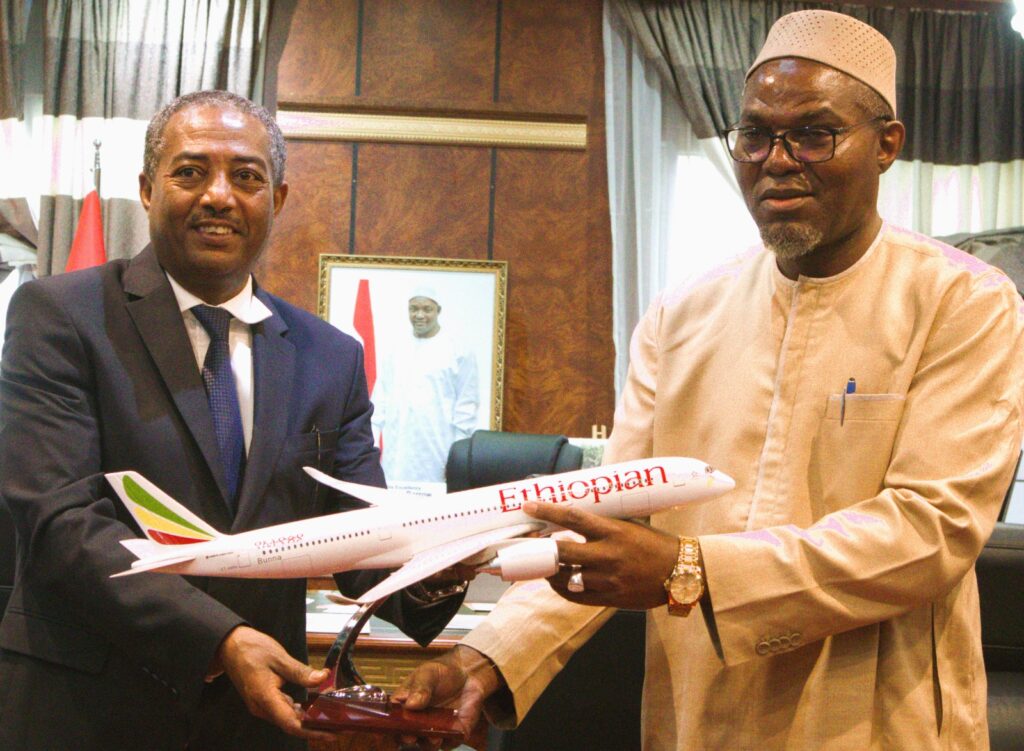 By: Sarjo M. Camara
The Chief Commercial Officer, Mr. Lemma Yadecha Gudeta, presented a design of their new destination airplane to the H.E Vice President Mohammed B.S Jallow
His Excellency Vice President Mohammed B. S Jallow received at his office on Tuesday 26th of September 2023, the management of Ethiopian Airlines Company headed by the Chief Commercial Officer, Mr Lemma Yadecha Gudeta, who was accompanied by the Regional Director of Sales and Marketing, West Africa, Ms. Abeba Sileshi.
The management also presented a design of their new destination airplane to Vice President Jallow.
His Excellency Jallow thanked the Ethiopian Airlines management for having an interest in the Gambia.
"I hope that this cooperation will ease the air travel hitches for the country and the continent at large," he remarked.
The Chief Commercial Officer, and head of the delegation, Gudeta said the purpose of their visit was to have regular engagement with the Director General of The Gambia Civil Aviation Authority (GCAA) for a possible cooperation.
"We are here to look into possible areas of cooperation in the aviation sector with the Gambian companies like the Gambian International Airlines (GIA), the ground handlers, and the catering companies in general, in a way of making an online destination for Ethiopian Airlines, and also to look into a way of cooperation between Ethiopian Airlines and the Gambia," he told the Vice President.
The Ethiopia Airlines team was excited by the hospitality accorded to them by their Gambian partners.
"We saw that there is a huge potential to explore here in the Gambia. Therefore, we strongly believe that the partnership between Ethiopian Airlines in the Gambia will flourish and bear fruits," the Chief Commercial Officer added.
The meeting was attended by other senior government officials including the Chief of Staff, Mod K. Ceesay, and the Deputy Permanent Secretary of Admin and Finance, Office of the Vice President, Mr. Ousman Ceesay.