Kifa pledges commitment to sports developing as he benefits  from a Sports Governance & Leadership Course in Ghana.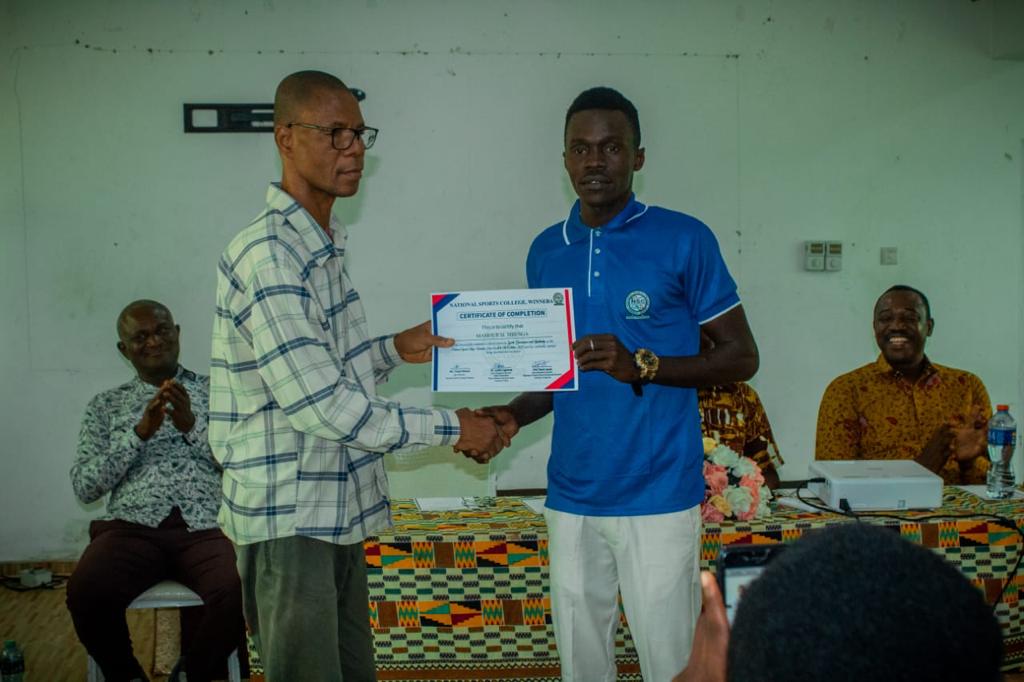 Following his successful capacity building in sports, Mamour. M Mbenga popularly known as Journalist Kifa Barham pledges to fully utilise the knowledge gained from his training  to contribute meaningfully in sports development in The Gambia.
Its could be recalled that mr Mbenga  earlier this month, completes an intensive training program on Sports Governance and Leadership Course at the National Sports College in Winneba; Ghana.
The training program is a professional sports leadership course design in the following sports modules on Transparency in sports, Accountability in sports, Professionalism in sports, Building effective relationships with stakeholders, Scope of sports leadership, Leadership principles in sports organizations, Leadership competencies in sports organizations, Sport leadership and team dynamics, leadership models in sports, Governance Ethics, Government policies in relation to sports, Developing effective governance structures in sports organizations & The sports governance landscape.
Thirteen (13) participants from various sporting organizations participated in the course program at the Winneba North Campus.
In an interview with this medium, Mr. Mbenga emphasized to this medium that his dream is to train young athletes to be professionals in their careers.
Adding that as an aspiring sports development manager he believes capacity building and other related sports development programs have been his top priority.
The football enthusiast said his desire is to serve and contributes his quota to the development of football especially sports at large in the region and beyond.
He describes that sports are beyond entertainment but serve as a businesses and other areas of economic benefits.
Adding that any serious sports stakeholder will take into consideration to prioritizing sports as a primary economic goal.
He said sports nowadays is among the top social activities that easily unites people, create rapid economic growth, create huge employment and generates economic benefits to various stakeholders.
He said both local and international sporting organizations contributes millions of resources to the global sporting industry.
Kifa Barham has been one of the active youth in the Gambia using sports as a tool of mechanism to address social problems affecting the youth specifically those vulnerable class involve in illicit drugs, crimes and the backway syndrome.
Last year, Mr. Mbenga obtained his professional sports qualification on Football Business Management and HR at the Valley View University(VVU) in Dodowa, Ghana and currently finishes Sports Governance and Leadership Course.
He is the Official Brand Ambassador of the Drug Law Enforcement Agency The Gambia under the Ministry of Interior.
He is the Founder and Executive Director of Africa Drug Free Foundation an organization gears to address social challenges and crimes that involves young people in the fight against drug abuse.
Three years ago, Mbenga was certified by Colombo Drug Advisory(DAP) as a qualified trained Substance Use Disorder Counselor(SUD) and global master trainer on Universal Treatment Curriculum.
He is a practicing journalist, CEO and Founder of Africa Citizen Radio(ACR) an online news network and multimedia company.