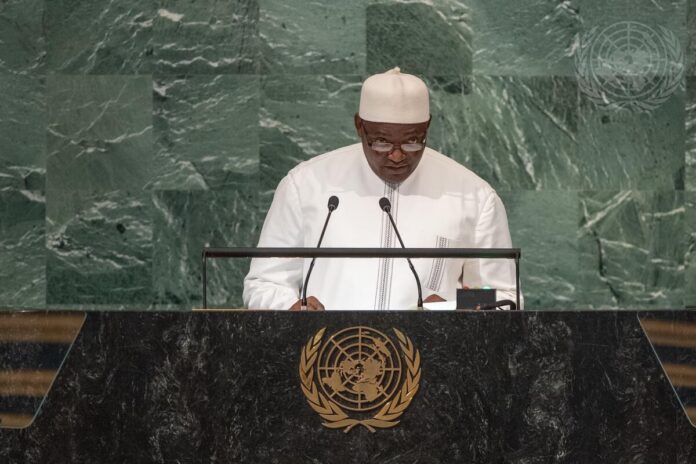 Statement Summary:
ADAMA BARROW , President of Gambia, said that the current cost-of-living crisis around the world requires an immediate global response to alleviate the suffering.  He welcomed the establishment of the Global Crisis Response Group, expressing hope in concrete action-oriented recommendations and solutions.  Amid current socioeconomic challenges, such as a decrease in its tourism sector, heightened inflation and food and energy insecurity, and only modest economic growth, Gambia is developing its National Development Plan 2022-2026.  The new plan will advance the pursuit of national priorities, including the Sustainable Development Goals and the Agenda 2063 of the African Union.
Despite its size and economic status, Gambia is at the forefront of fighting climate change through ambitious national action plans.  "As a continent, our collective goal is to have a peaceful Africa where the people enjoy the dividends of peace, stability and prosperity," he said.  Africa must be provided with adequate equipment and the means to fully play its peace enforcement role on behalf of the international community. As a longstanding troop– and police–contributing country, it will continue to support the Secretary-General's Action for Peacekeeping initiative.  He went on to emphasize the importance of addressing the frequency in deadly attacks against peacekeepers by giving those missions realistic mandates.
The complexity of the challenges in the Sahel requires forward-looking solutions, he continued.  Contending parties on the ground in Libya will enable its people to live and coexist in peace.  He reaffirmed his country's strong support for the Moroccan autonomy initiative, which "serves as a realistic compromise in accordance with the United Nations resolutions".  Underscoring that developments in the Horn of Africa continue to be a source of serious concern, he called on the leaders of the region and the international community to explore new options to restore peace in the area.  Turning to other regions, he called for ending the longstanding embargo imposed on Cuba by the United States, and also for the revival of the Arab Peace Initiative, emphasizing that the Palestinians deserve a State of their own.  Speaking on the "plight of the Rohingya", he said that it remains a matter of grave concern and called on the Government of Myanmar to comply with the rulings of the International Court of Justice and end all human rights violations against the Rohingya.  He reiterated that his country considers Taiwan as part of China and advocated for the adoption of the One China Policy.
He underscored that the cost-of-living crisis, "biting" inflation and food and energy insecurity continue to devastate economies and frustrate pandemic recovery efforts in Africa and elsewhere.  He said that the debt burden has reached crisis levels and called for general debt relief.  "We implore Russia and Ukraine to heed the global plea for political dialogue and end the war," he said.  "Africa is simply asking for global peace and friendly relations.  Our survival and progress depend on global peace and stability," he added.