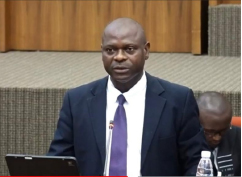 The Government of The Gambia and the European Commission sign three financing agreements supporting the country's Democratic Transition, Security Sector Reforms, and Technical Assistance on January 4, 2023. These agreements total 18 million euros.
The United Nations Development Programme (UNDP) will carry out the first one, which will cost nine million euros. It aims to accomplish three things: I want better checks and balances in the Constitution and laws, as well as protection of human rights and fundamental freedoms, including those of vulnerable groups and minorities; ii) to increase the efficiency of human rights, rule of law, and transitional justice mechanisms; and iii) to improve the efficiency of the structures used for local governance.
Dr Jarra Jagne: Poultry farming faces big challenge in Gambia
The second one is for a total of six million euros that will be used to strengthen the EU's support for security sector reform, particularly with the goal of ensuring individual and community security. The Geneva Center for Security Sector Governance (DCAF) and the German Development Agency (GIZ) respectively will carry out this action. The Gambia Police Force aims to improve security in accordance with standards and best practices, such as respecting human rights and gender equality; ii) to boost the capabilities and efficiency of a few Gambian police stations outside of Greater Banjul and the personnel assigned to them.