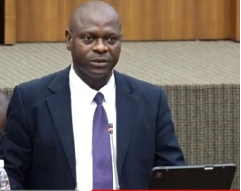 The minister of finance and economic affairs, Seedy K.M. Keita, stated that the government intends to transform the Diaspora finance ecosystem by issuing Diaspora-Targeted Bonds so that savings held abroad will be invested in secure and rewarding products in The Gambia.
NPP set to select candidates for local gov't elections
He went on to say that The Gambia has the strategies, policies, political will, technical know-how, and patriotic drive necessary to become the world leader in Diaspora finance.
"Now is the right time to take advantage of the numerous opportunities." The head of the Finance Ministry stated, "The Diaspora has demonstrated their commitment to invest in the local economy through their remittances and other formal transfers."
The Central Bank of The Gambia (CBG) announced that it will receive $712,450,000 million in remittances in 2022 as the global economy continues to recover from a serious economic meltdown caused by the COVID-19 pandemic and the Ukraine-Russia conflict.
Dr Abdoulie Sireh Jallow, first deputy governor of CBG, made the following remarks during The Stake in the Nation Forum, which was held last week at the International Conference Centre in Bijilo: For the year 2022, the interim float of remittances to The Gambia is $712,450,000 million.
The expert in finance added that the numbers show a decrease of 8% compared to 2021.
"As COVID restrictions diminish globally, the contraction is partly attributable to the increased digitalization of non-informal sectors and channels for sending money. Jallow stated, "Some of these remittances are not accounted for in the formal system of our official statistics."
The Gambia is the third most dependent country in Sub-Saharan Africa, after Liberia and Comoros, according to the World Bank. It is one of the top ten countries in the world that is dependent on remittances.