President Barrow Applauds Islamic Development Bank Support to The Gambia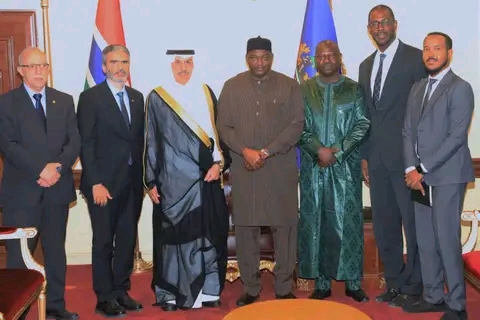 President Adama Barrow commended the Islamic Development Bank (IsDB) for its support to his Government when he received the President of the Bank, Dr Muhammed Al Jasser, at the State House in Banjul.
The President highlighted key projects supported by the Bank, including the Laminkoto-Passamas road, the agriculture sector and electricity, noting they significantly impact people's lives. He added that the country largely depends on agriculture and that it ensures food security, which is national security.
Stressing the importance of roads, the President said it has made travelling easy and connecting businesses and services, positively impacting the economy. He assured the Bank of his Government's continuous partnership for the mutual benefit of the country and institution.
Following his audience with the President, Dr Muhammad Al Jasser told the waiting press that the IsDB regarded The Gambia as a vital member and had financed up to a Billion Dollars in projects in the country over the years. He added they stand shoulder to shoulder with the Government and people of The Gambia in their journey to development.
Dr Jasser further stated that he visited some of the projects like road and electricity they are financing, some of which have been completed and others steadily progressing, adding there are evident achievements.
The IsDB head said they had signed a grant with the Government to enhance productivity in agriculture by providing suitable crop varieties. "Agriculture is a pivotal sector in every and any economy, especially in developing countries, and to have such a mapping of the land of any country will be very important to choose the right crop for the right place to have the quantities," he noted.
The Minister of Finance and Economic Affairs, Hon. Seedy Keita, who accompanied the delegation to the State House, thanked the IsDB for the trusted partnership over the years, saying the Bank is financing many projects that positively impact the lives and livelihoods of Gambians.