THE GAMBIA NAVY CONCLUDES PARTICIPATION IN "OBANGAMEEXPRESS "EXERCISE 2023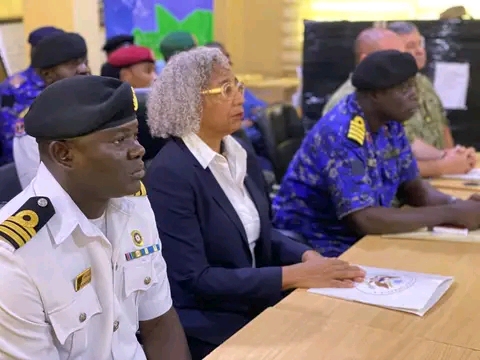 The Gambia Navy held a closing ceremony marking the end to the recently conducted #ObangameExpress exercise 2023 on Friday 03 February 2023.
The event took place at the Gambia Naval Command Maritime Operations Center in Banjul.
The exercises at sea and surveillance through the maritime operations center started on 28 January 2023. The naval operation brought together 32 participating nations which is geared towards strengthening cooperation amongst partner countries for a more secure, safe and economically prosperous maritime environment for Africa's coastal nations and the world at large.
To achieve the aforesaid, the exercise activities were tailored to tackle illegal activities at sea such as human trafficking, small arms and narcotics trafficking, illegal unreported and unregulated (IUU) fishing, search and rescue operations just to name a few.
The ceremony was attended by the US ambassador HE Sharon L Cromer , the representative of the Commander Gambia Navy Captain (Navy) Sambou Barrow, US Navy Team, officers and ratings of the naval fleet. Speaking at the ceremony, the US ambassador commended the Gambia Navy personnel for serving diligently despite inadequate resources. She further stated that the Gambia Navy is absolutely central to the affairs of the sea stressing it is the Navy's sacred duty to guide the people who ply the country's waters and to protect the fishing grounds that are among the Gambia's greatest resources.
"Every illegally caught fish is a meal taken from a family's plate, every illegally cast net is a threat to this country's resources" said the US ambassador.
The representative of the Commander Gambia Navy, Captain (Navy)Sambou Barrow speaking at the occasion said the Gambia Navy is willing to partner and cooperate with the rest of Africa and the world at large for our common maritime security goals.
The event culminated in award of certificates to participants and gifts to the US Navy team then a group photo.