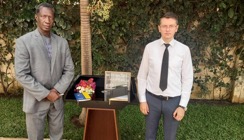 In the wake of the devastating earthquake that claimed the lives of more than 7,000 people, the United Democratic Party (UDP) has sent a Letter of Condolence to the Turkish Embassy in Banjul in order to express its sympathies to the people of Turkey.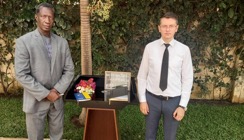 The following is the text of the letter that was signed by Leader and Secretary General of the party, H.E. ANM Ousainu Darboe:
Mr. Lamin Manneh, UDP's Deputy Secretary for External Affairs and the Diaspora, presented a letter of condolence to H.E. Varol TEPECIK, Third Secretary at the Embassy, in the absence of the Turkish Ambassador, who has returned to Turkiye to be present on the ground in these difficult times for the country. The letter was signed by H.E. ANM Ousainu Darboe, Secretary General and Party Leader of the United Democratic Party (
In the letter of condolence, H.E. Darboe expressed his sympathies to the authorities and people of Turkiye for the significant loss of life and property damage caused by the devastating earthquake and its subsequent aftershocks on February 5 and 6, 2023.
H.E. Darboe offered prayers for the deceased and wished the injured victims a speedy and complete recovery.
Additionally, he wished the Turkish people's government and people the strength to endure this immense loss and grief and emerge even stronger as a nation.
France to grant Senegambian migrants work permit
Mr. Lamin Manneh signed the book of condolences that was opened at the Turkish Embassy on behalf of H.E. Darboe.