Conflicting historical narratives about St.Valentine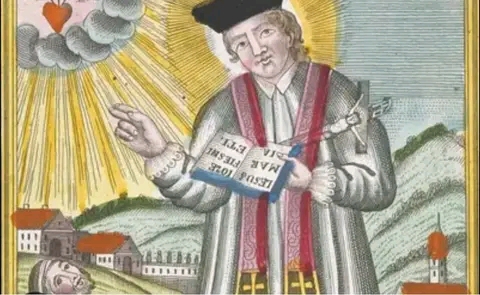 St. Valentine, (died 3rd century, Rome; feast day February 14) is the name of one or two legendary Christian martyrs whose lives seem to be historically based. Although the Roman Catholic Church continues to recognize St. Valentine as a saint of the church, he was removed from the General Roman Calendar in 1969 because of the lack of reliable information about him. He is the patron saint of lovers, epileptics, and beekeepers.
By some accounts, St. Valentine was a Roman priest and physician who suffered martyrdom during the persecution of Christians by the emperor Claudius II Gothicus in about 270. He was buried on the Via Flaminia, and Pope Julius I reportedly built a basilica over his grave. Other narratives identify him as the bishop of Terni, Italy, who was martyred, apparently also in Rome, and whose relics were later taken to Terni. These may be different versions of the same original account and refer to only one person.
According to legend, St. Valentine signed a letter "from your Valentine" to his jailer's daughter, whom he had befriended and healed from blindness. Another common legend states that he defied the emperor's
martyr, one who voluntarily suffers death rather than deny their religion by words or deeds; such action is afforded special, institutionalized recognition in most major religions of the world. The term may also refer to anyone who sacrifices their life or something of great value for the sake of principle value and love.