FEMALE CONAKRY GUINEAN NATIONAL ARRESTED AT BORDER ENTRY POINT WITH TEN (10) BLOCKS OF MOROCCAN HASHISH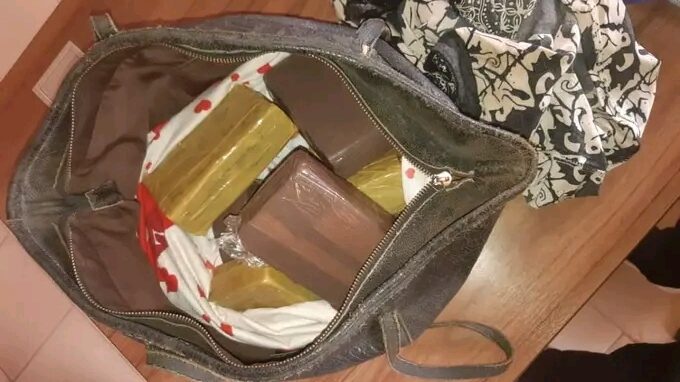 As operatives intensify their crackdown on illicit drug traffickers and their patrons, DLEAG operatives stationed in the Upper River Region clutched one Mamet Soumah, a Conakry Guinean female National with ten (10) blocks of Moroccan Hashish on the 16 February 2023 around 12:30 hours at Nyamanar border entry point. The suspect was onboard a commercial vehicle entering The Gambia from Guinea Conakry.
She is presently in custody while further investigations continue.
In a separate but similar development, DLEAG operatives stationed in the Lower River Region arrested one Alieu Camara a Senegalese National and a resident of Mbour, Senegal with two (2) big bundles of suspected cannabis sativa at Jenoi checkpoint on 16 February 2023 around 13:20 hours GMT onwards. He was onboard a white-colored Mercedes Benz with registration number AA 107 HV heading to Dakar from Binjonna (Cassamance).
In the North Bank Region, DLEAG operatives apprehended one Tamsir Chorr, A Gambian National with one (1) big bundle and one (1) parcel of suspected cannabis sativa on the 16th February 2023 around 12:30 hours GMT onwards at Bakindik Koto. His means of conveyance was a "Jakarta" motorbike.
Alieu Fatty of Faraffeni was arrested at Farafenni 6 junction (Coloban) with thirty (30) wraps and some quantities of suspected cannabis sativa on 15 February 2023 around 10:00 hours GMT onwards. Similarly, Yusupha Trawally of Medina Nfally was nabbed on 14 February 2023 around 15:00 hours GMT onwards with two (2) parcels of suspected cannabis sativa at the Bamba Kokong checkpoint.
In light of the above and current trend, we all must remain alert to the happenings in our surroundings and report suspicious activities to law enforcement operatives. While it is important for us to be concerned about drug-related activities within our communities, it is equally paramount that we share information about those engaged in such activities with law enforcement operatives. Sharing of information can help support law enforcement regimes put in place to keep our societies and communities safe, healthy, and drug-free.