Academics from Senegal prepare for the Banjul Islamic Conference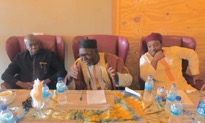 A group of Islamic scholars from Senegal is currently in the country for a scheduled Islamic conference that aims to bring together all Islamic leaders, regardless of their sects or associations, to spread Islam's teachings for unity.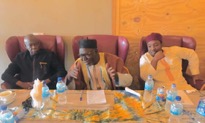 Dairatul Habibou Rahman is organizing the conference, which will take place at the Westfield Monument on Sunday.
Barrow acknowledges that the price increase reduces household capability
Sheikh Ebrahim Jallow, a Senegalese scholar and the son of well-known Islamic scholar Sheikh Muhhideen Samba Jallow, will be in charge of the conference.
Gambian imams and the Supreme Islamic Council's leadership are anticipated to attend the event.
This medium was informed by Bai Mahmud Kebbeh, PRO of Dairatul Habibou Rahman, that this is the first Islamic conference to be led by scholars from Sheikh Muhideen Samba Jallow's umbrella.
He added that the conference's theme is "Tawhid" (togetherness), and that the goal is to spread the message of Muhammad SAW.
"The conference is not meant to be attended by just one Islamic group; Instead, it is for Muslims in general. He continued, "We have invited all of the religious leaders in the country to share their knowledge of the Islamic teachings on togetherness, understanding, and respect for the views of others."
Mr. Kebbeh stated that the Imam Ratib of Banjul and the President of the Supreme Islamic Council are anticipated to make statements.
He went on to say that his group is confident that the conference will have an impact and that there will be no differences in the topics that are discussed.