President says youths' skills acquisition and training badly needed for socio-economic transformation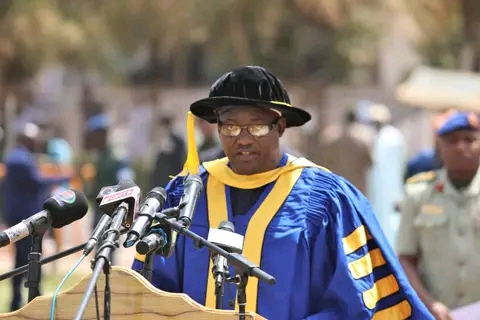 President Barrow on Saturday presided over the 15th convocation ceremony of the University of The Gambia on the theme: Higher Learning Skills and Entrepreneurship Sustainable Development
the president said the graduation ceremony marks another spectacular milestone in the history of education in The Gambia. It is also a point of reference in the lives of the graduates and their families, as well as The University of The Gambia (UTG) and the Gambian nation at large.
"The convocation signifies progress and underscores our collective commitment to educating our youths, whose skills and training we need badly for the" socio-economic transformation of our country.
In addition, the occasion symbolizes the dedication and determination of the youths to uplift themselves and their families by carving out careers and building on their past glories through academic pursuits."
As Head of State and Chancellor of the UTG, president  Barrow stressed that he cannot be happier than being here to grace the ceremony and celebrate this accomplishment with all of the graduates present. Therefore I congratulated the graduates, staff, and students of the University on this magnificent day.
"The UTG Council, Administration, and entire staff deserve special commendation. We are proud of all of you, together with the Ministry of Higher Education, Research, Science and Technology (MoHERST)."
"It is fascinating that the University wisely adopted "Higher Learning Skills and Entrepreneurship for Sustainable Development" as the theme for the occasion. This is the trust of my address today.
For a country like The Gambia, skills, and entrepreneurship are critical enablers of speeding up socio-economic transformation."
He added that to realize this, however, higher education institutions must function as essential drivers for enhancing learning, skills development, and nurturing a culture of entrepreneurship for sustainable development.
"As a guiding definition, it suffices to argue that sustainable development implies working progressively to persistently meet the current and emerging needs of society, without compromises on the optimal advancement of future generations. Thus, we expect sustainable development programs to be suitably progressive, in line with the economic, social, and environmental concerns of the nation."
President  Barrow further revealed that over the years, his government has seen strong economic growth in developing countries without corresponding decreases in unemployment rates, or critical increases in employment opportunities to meet the labor market needs.
"This mismatch raises the question: Are the knowledge and skills acquired from our institutions appropriate enough? Higher learning skills are essential to pursue sustainable visions of the future. Mindsets and skills for problem-solving, decision-making, teamwork and critical thinking strongly correlate with sound education and training for national development. These skills are fundamental and necessary for the attainment of our national goals and the global Sustainable Development Goals."
.