Ambassador Alkali  Conteh presents letters of credence to Turkey's Erdogan.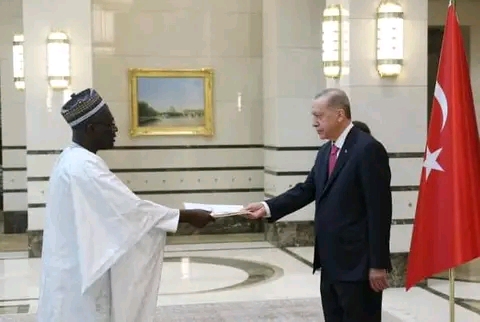 The despatch from the ministry of Foreign Affairs stated that The Gambian 's Ambassador to Turkey, His Excellency Alkali F. Conteh on Wednesday, 22nd March 2023 presented his Letters of Credence to the President of the Republic of Turkey, His Excellency Recep Tayyip Erdogan at the Presidential palace in Ankara.
Following presentation of his Letters of Credence, Ambassador Conteh on behalf of the President and the people of the Republic of The Gambia extended warm greetings to President Edogan. He reiterated the message of condolence and solidarity to President Edogan and the Turkish people on the recent earthquake and the Istanbul terrorist attack in November 2022, whereas acknowledging the positive contribution of President Erdogan to the strengthening of The Gambia –Turkey relations.
He extended a message of goodwill on the upcoming election slated for May 14th 2023, and thanked the President for Turkey's continuous support for The Gambia's hosting of the next OIC Summit as well as the prosecution of the case of the genocide against Myanmar and the intermediary role played by President Erdogan in the current Russia – Ukraine conflict.
In the area of health, Ambassador Conteh thanked the President  for Turkey's support but further requested increment in the number of health scholarships allocated to Gambians in Turkey. On defense and security, the Ambassador praised the longstanding military and security cooperation between the two countries.
However, he highlighted the current performance by a Turkish company Katmerciler in the contract for the supply of Armoured Personnel Carrier [APCs] for The Gambia Armed Forces peacekeeping operation. President Erdogan immediately gave instructions to his aides to get in touch with the company to resolve the matter as a matter of urgency.
The Ambassador explained the issues of Gambians in Turkey on their law abiding nature and positive role played by them in facilitating trade between business persons from the two countries. He reminded the President that the issue of residence permit for the Gambian migrants which has been outstanding since 2021 is yet to be settled.   In response to that, President Erdogan promised that his aides will follow up on the matter with the ministry of interior.
In accepting the Credentials, President Erdogan extended Ramadan greetings to His Excellency President Adama Barrow, and further acknowledged his message of condolence and solidarity after the massive earthquake that recently hit Southeast Turkey. H.E. Erdogan also extended his condolence to President Adama Barrow and the Gambia Government on the demise of Vice President H.E Bardara Joof.
President Recep Tayyip Erdogan showed appreciation to The Gambia –Turkey bilateral relation. He highlighted the various development cooperation within the two countries and explained with appreciation that The Gambia was the first country to close a FETO-affiliated school in the aftermath of the 2016 attempted coup in Turkey. He also expressed the need to increase the trade volume between the two countries from the current level of USS70 million.