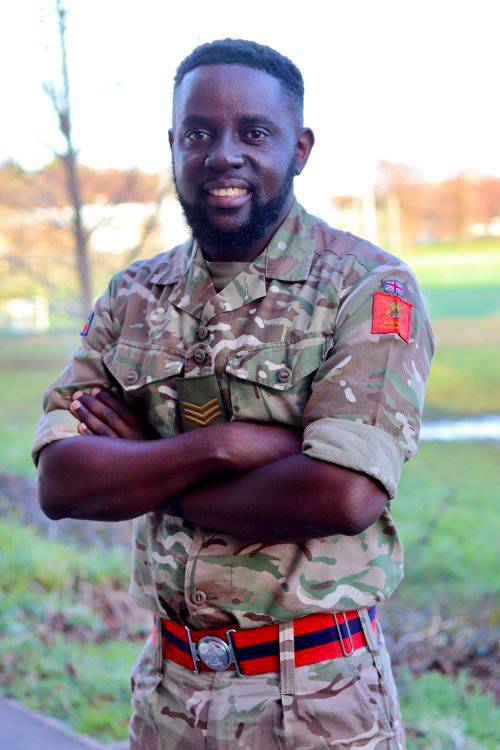 In honour of Commonwealth Day, a Gambian born soldier shares his passion for the day
Sergeant Sada 'Maxi' Sumareh, from Churchill's Town, Gambia, is the Personal Assistant to the Director of Personnel at the British Army's Headquarters in Andover.
"The Army is the best educator because of its diversity with people from all backgrounds and I am proud of myself for what I've achieved in the transition from civilian life to the military," he said before reflecting on his childhood.
I don't think I would have helped these children without the ArmySERGEANT SADA 'MAXI' SUMAREH
"I remember we marked Commonwealth Day in school and dressed up to represent the dress of various countries. We would celebrate and perform in front of parents."
Sergeant (Sgt) Sumareh, who serves as part of the Adjutant General's Corps in the Staff and Personnel Support (SPS) Branch, joined the Army in 2008. He was inspired to enlist by a teacher and another close friend, both of who now serve in the British Army as well.
"It has been the best decision I have ever made, and it has had a big impact on my life," explained the 38-year-old, whose UK hometown is in Devon.
"I was a good kid but one of those kids who would not listen, and if I had stayed on the streets of Plymouth, the way I was going who knows where I would have ended up?
"It transformed me from a boy to a man as the Army taught me a lot about self-control and discipline. I am very proud of myself, as is my family, for what I have achieved including traveling the world."
The day job for Sgt Sumareh, as Personal Assistant to Director Personnel, keeps him very focussed.
"I run his diary day-to-day, sort out his meetings, his admin, travel, and kit," he explained. "He has a big portfolio; every day is different and it's a busy role."
Outside of his Army life, Sgt Sumareh, who is married and a father of two young children, is also passionate about giving back to his home community in the Gambia and is a real role model for many.
"I don't think I would have done this without the Army," he said. "I've got six kids I sponsor for their schools out of my wages.
"I've had help from the Armed Forces sending clothes. At Christmas, I took out a load of football boots and it was lovely seeing the children running around – all I saw was myself as a little kid running and playing in the streets without shoes."