Speaker FTJ Delivers Keynote Address on FDI At The 2023 Africa Economic Summit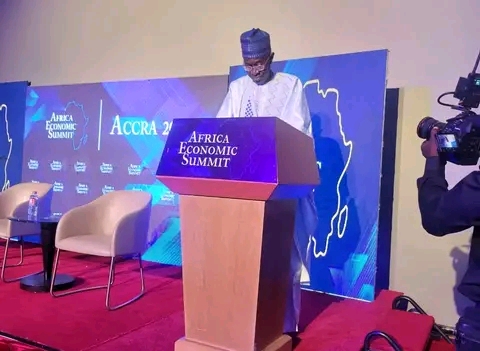 The Speaker of the National Assembly of The Gambia, Hon. Fabakary Tombong Jatta delivered Keynote Statement on 'What African Law Makers Must do to Strengthen Foreign Direct Investment [FDI] in Africa' during the Africa Economic Summit 2023 on Wednesday 26th April in Accra, Ghana.
The two-day summit is held for the third time since its inception in 2022, bringing together governments and nongovernment organizations, academia, and funders) among a host of partners interested in achieving sustainable economic development across Africa.
Hon. Jatta described the Summit as very timely as the continent is grappling with a multitude of economic challenges and a host of political upheavals. Hence, the Summit is expected to avail delegates the opportunity to establish concrete pathways to addressing the continent's compelling economic issues.
In the delivery of his keynote address, Hon. Fabakary viewed Foreign Direct Investment [FDI] as an increasingly significant catalyst for output and trade in African countries as it enhances investment, employment, foreign exchange, technology transfer, capital formation, and higher export in addition to the promotion of steady economic growth.
"The productivity gain resulting from the diffusion of knowledge and technology from foreign investors to local firms and workers is perhaps FDI's most valuable spillover input to our long-term growth and development. Essentially, enhancing FDI through the involvement of Parliament and Parliamentarians is therefore not only crucial but necessary to align policy efforts and programs making our continent the center of attraction for both foreign and private capital investment."
On the continental economic problems, hon. Jatta tasked delegates to candidly engage in discussions to provide strategic guidelines for greater economic competitiveness in African nations.
"As the Summit brings together the finest of thoughts, I have no doubt it will broaden business and political leaders' insight to continental issues of great significance in the quest to addressing definitively the economic challenges from an African perspective", he noted.
The Gambian Speaker pointed out that the challenges confronting the continent intensify as the effects of the Covid-19 Pandemic, the Ukraine War and the unfavorable global economic outlook forecast by IMF and the World Bank remain in focus.
"These coupled with the political instabilities, poverty, and underdevelopment in Africa make it all the more necessary for duty bearers like ourselves to engage in forums of this nature to reflect, think outside the box, and proffer initiatives to position our continent in the vanguard of innovation, investment, and development."
Hon. Jatta expressed optimism that the African Economic Summit will facilitate new investments, encourage business development, share best practices, guarantee effective networking, offer new industrial insight, showcase excellence, and promote thought leadership.
To that end, he called for the formulation of a white paper on coordinated actions that require governments and institutions to commit to and implement for the improvement of the African Economy, strengthening the competitiveness of African companies, and addressing security challenges among others.