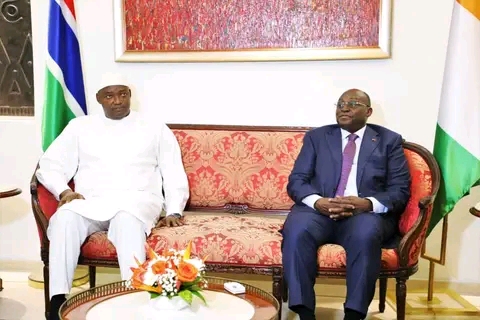 State house, in a media despatch, revealed that President Barrow's two-day official visit to the Republic of Côte d'Ivoire culminated in the signing of three agreements between the two countries.
The Hon. Minister of Foreign Affairs, Dr. Mamadou Tangara, and her Ivorian counterpart, Kandia Kamara, signed an agreement to provide a general cooperation framework between The Gambia and Cote D'Ivoire.
The two Ministers also signed an air service agreement to promote the development of air travel between the two countries. The agreement will allow Air Cote D'Ivoire, the national carrier, to expand services to The Gambia.
Similarly, a third agreement to promote energy cooperation was also signed by the Minister of Energy and Petroleum, Abdou Jobe, and Mamadou Sangafowa Koulibally, the Ivorian Minister of Mines and Energy. Under this agreement, the two countries agreed to cooperate in the trade of all forms of energy and petroleum