"Family members must consult each other to avoid customary land dispute "Manduar Alkalo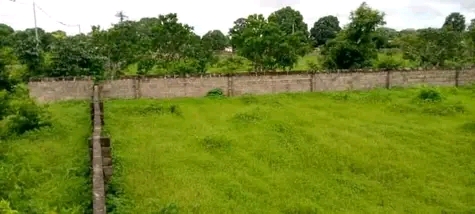 Concerned with the alarming cases of family land conflict, The village Head (Alkalo ) of Kombo Manduar, Alhagie Jerreh Bojang says for the transfer of family land documents to potential buyers, the elders need to consent stressing that it will prevent lawsuits and violent conflict in the village.
In an exclusive interview with BlockTV, Alkalo Jerreh Bojang further justified that the process will prevent him to issue double land transfer documents for a single piece of land.
"It is a difficult situation if a single family member took money from land dealers and buyers with the promise of giving them a portion of the family land without prior consultation with elders.
"Land-related disputes can turn violent and may result in the displacement of residents. People sometimes use weapons to defend themselves against attacks. For example, in the  case of  Gunjur and Berending which resulted in one person being killed, we don't want that to happen here,*  Manduar Alkalo warned
Evidence has indicated that Land dispute involves conflicting claims to rights in land by two or more parties. Communal land disputes could emerge from historical injustice, ill-advised government policies, conflict of interest, competition over land, and other factors.
" As a village head, am responsible for issuing land documents, it's frustrating if a trusted village elder convinced me that a particular piece of land belongs to them. If the land doesn't belong to you, please don't claim it." He advised
" Many of these customary lands are not documented, it's challenging for us as village Heads to identify the accurate demarcation and the rightful owners. We depend on the elders to help us verify the right owner. Unfortunately, sometimes we are giving the wrong information which negatively affects the issuance of land documents."
Alkalo Bojang highlighted that the first step in the land-buying process in the Gambia is that you should try to get a written verification of ownership from the local Alkalo( village head). But expressed surprise that the blame for the land dispute comes to them when it turned violent but those who enjoyed the money never tell them their deal.
"  I embark on-site visits to lands but sometimes a family member will sell family land without consulting the others. Different family members will sell the land, this is what causes double registration. The towns are full and people are buying land to move with families to nearby villagers. We must not be eager for money and sacrifice our dignity. The conflict and violence we are causing in society are huge. Families are disintegrated due to land disputes. The general good of the society is more important than our interest," he stated
Inheritance problems is also a  major contributing factor to land dispute. most families are unable to solve land disputes amicably.
If land issues are left unaddressed, the dispute escalates thereby leading to violence,