President Barrow Shuffles Senior Government Officials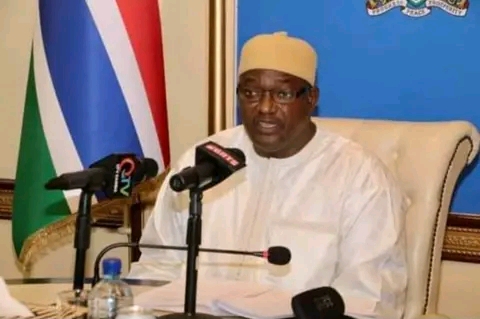 The government Gambia despatch states. That, Consistent with his commitment to increased accountability and stability in Public Service Administration, His Excellency President Adama Barrow, has effective immediately, redeployed and appointed some senior officials.
Mr. Hassan Jallow, Permanent Secretary (PS), Ministry of Agriculture is redeployed to the Office of The President (OP) as Mr. Abdoulie Jallow, PS, Ministry of Finance and Economic Affairs, is moved to the Agriculture Ministry.
Similarly, Ms. Roheyatou Kah, PS Ministry of Fisheries, Water Resources and National Assembly Matters, is redeployed to the Ministry of Environment, Climate Change and Natural Resources (MECCNAR), replacing PS Alhagie Nyangado who moves to the Fisheries Ministry.
Effective 1st August 2023, Mr. Buba Sanyang, Permanent Secretary of the Ministry of Lands, Regional Administration and Religious Affairs redeploys to the Ministry of Tourism and Culture.  Also, Mr. Samba Camara Mballow, PS, Office of The Vice President will on the 14th of October 2023, be the new PS Ministry of Gender, Children and Social Welfare.
Equally affected by the Presidential shuffle are four Deputy Permanent Secretaries: Mr. Alhagie Taal, DPS of the Finance and Economic Affairs Ministry redeploys to the Tourism Ministry replacing DPS Mamady Dampha who moves to the Ministry of Trade, Industry, Regional Integration and Employment (MOTIE).
Mr. Hassan Gaye, DPS of MOTIE is sent to the Ministry of Communication and Digital Economy (MOCDE) while Mr. Ebrima Drammeh, DPS, Office of The President, is redeployed as Deputy Governor, Lower River Region.
In a related development, President Barrow has appointed Mr. Sheriffo Sonko, former Chairman of the Brikama Area Council as Protocol and Welfare Officer to The Gambian Embassy in Turkey.