Default SIG payments: Teachers' Union gave an ultimatum to the Government.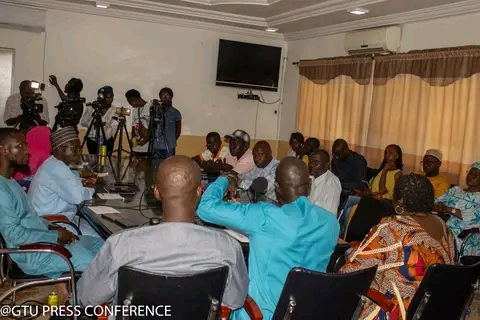 The Gambia Teachers' Union, today held a press conference at its offices along the MDI Road, Kanifing.
The press conference was meant to update the public on gov't inaction in paying the School Improvement Grant schools.
A major gov't move some years ago halted the payment of all levies in public schools by parents/students. The action followed the introduction of the School Improvement Grant.
The SIG is paid by the government to support the smooth, effective, and efficient running of schools. But Union officials today frown over the government's inaction in meeting its obligation as per the payment of the SIG.
The delay in the payment of the grant, Union officials say, has a huge toll on effective teaching and learning in schools.
According to figures, the government has not paid D26, 035,619.00 due for the 2nd Term SIG, D15, 110, 516.00 due for the 3rd Term SIG, and D42, 120, 000.00 due for textbooks meant for use in schools. These accumulate to D73, 266, 135.00 of unpaid monies owed to schools since the beginning of the 2022/23 Academic Year.
Union officials called on the government through the Ministry of Finance, the National Assembly Select Committee on Education, Training, and ICT, and the Directorate of Delivery to swing into action to ensure the monies owed to schools through the SIG are paid.
The Union demanded that the monies be paid on or before 19th July 2023, the failure of which officials will reconvene to determine the next line of action.