The Scorpions Coach is optimistic about the Gambia's eminent qualification to World Cup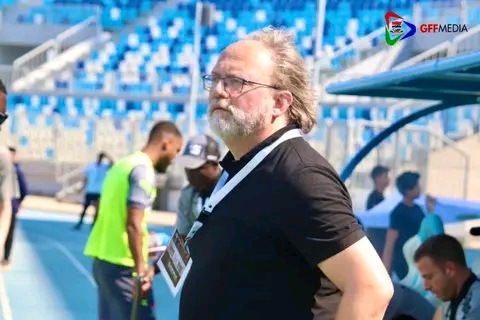 Scorpions Coach Tom Saintfiet said he believes Gambia can dream of finally qualifying for a first-ever senior FIFA World Cup after yesterday's draw in Abidjan gave us a very competitive group.
Speaking to the GFF Media following the draw that pitted us against Ivory Coast, Gabon, Kenya, Burundi, and Seychelles, Tom charged that his ambition of delivering the Gambia that World Cup berth in the United States, Mexico, and Canada is a real possibility. However, he warned that the immediate focus should be on that all-important African Cup of Nations qualifiers against Congo Brazzaville in Banjul in September.
"Last week I was looking forward to the draw and its exciting because I gave myself [the target] to qualify Gambia for the first time to the World Cup and I think we have a good qualification group. We need only a stable performance and not drop unnecessary points; If you look at the past groups of six, I think you need 21 to 22 points to qualify," he said.
"I'm satisfied with the draw; I believe that we're allowed to dream and believe. It's possible, now we need to start working even though it won't be easy but we have a fair chance. But first, we've to focus on the important game against Congo Brazzaville in the AFCON qualifier and after that, we focus fully on the World Cup qualifier."
He added further that there are no easy groups or opponents because in African football, all opponents are difficult and you've to respect everyone. "There are no easy teams, we know that from so many years already but it's also possible. Seychelles, Burundi and Kenya are good opponents, we need to be well-focused and not drop unnecessary points. Gabon, we know very well, we lost against them away and won at home. It will be a tough game and we've to be focused."
Describing the Ivory Coast as naturally the biggest team and favorites to win the group, he was, however, quick to add that the Elephants are currently not at the same level as the likes of Senegal, Egypt, Algeria, Morocco, Nigeria, and Cameroon. "We're not the favourites but on the other side as a coach I think we've chances and the group is competitive. I think we can compete until the last match day," he concluded.