CAF calls for improvements while inspecting the Independent  Stadium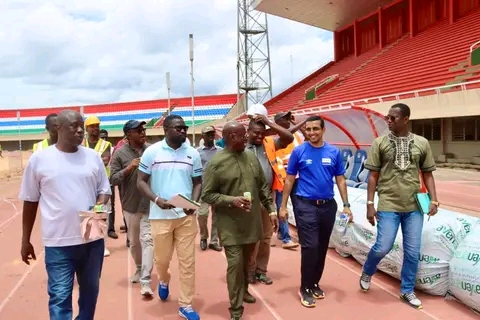 The Gambia Football Federation (GFF), in collaboration with the Ministry of Youth and Sports (MOYS), has facilitated a preliminary inspection of the Independence Stadium as both parties work towards ensuring the restriction on the country's national stadium is lifted to host the upcoming international football matches.
Today, Mr. Muhammad Feizal Sidat, CAF's Head of Professional Football, conducted a preliminary inspection of the Stadium's facilities to make recommendations and adjustments where necessary, and a further inspection, next month, would determine whether the Scorpions would be allowed to host September's crucial African Cup of Nations qualifier at home to Congo. Mr. Sidat conducted a thorough inspection of the Stadium's exterior and interior, including the physical structure, the competition area, the field of play, media areas, VIP/VVIP, and the stands amongst other significant areas.
Speaking at the end of the inspection, Mr. Sidat acknowledged the significant efforts made by The Gambia, while calling on the authorities for more improvement on the recommendations highlighted during the tour to meet CAF-required standards to lift the ban in their next inspection visit.
The second Vice President of the GFF, Mr. Ebou Faye expressed gratitude to CAF for honoring the invitation to conduct the preliminary inspection to assess the level of preparedness. "All Gambians want us to play here and the Ministry is doing everything possible to make sure we play here. We are hopeful and we will continue to work very hard so that we get the approval [even if] temporarily so that we can play our home match that can make us qualify for the AFCON," Mr. Faye said.
Marcel Mendy, the Execution Director of the National Sports Council thanked CAF for accepting the invitation to conduct the preliminary inspection. "For the Government and the GFF, we all want to play here so it was important for us to invite CAF to come and conduct the preliminary inspection and advise us further so that by the time they come for the final inspection, we would have gotten almost all the requirements," he asserted.
The inspection was also attended by the General Secretary and Chief Executive Officer of the GFF Mr. Lamin M. Jassey, the Permanent Secretary at the Ministry of Youth & Sports, officials of the National Sports Council as well as the consultant and contractors of the Stadium renovation project.