Education Ministry describes the atmosphere as World Schools Championship opens in Morocco.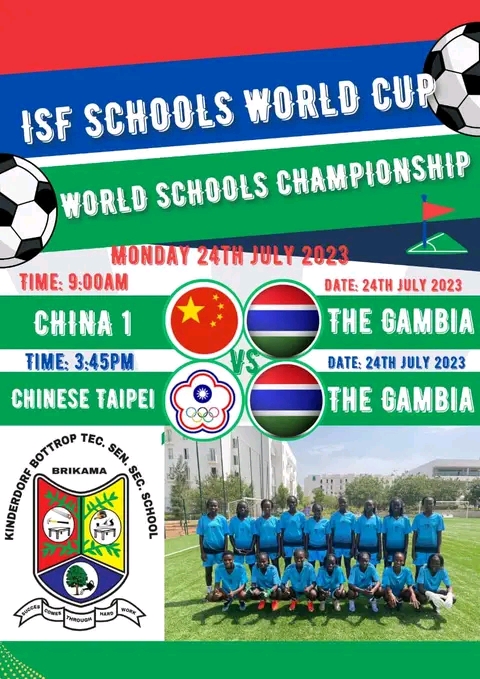 " the heart of North Africa lies a kingdom steeped in history, where the sands of time tell tales of valor and enchantment. Welcome to Morocco, a land of grandeur and warmth, where the people's hospitality radiates like the golden sun that bathes its landscapes. As the host nation of the prestigious ISF World School Championship, Morocco opens its arms wide, inviting the world to witness a celebration of sportsmanship and camaraderie like no other.
Once upon a time, Morocco was the backdrop for legendary Berber kingdoms and flourishing trade routes that spanned the continents. From the bustling markets of Marrakech to the majestic Atlas Mountains that stand guard over the land, every corner whispers secrets of a past that has shaped the nation's vibrant tapestry. This history lingers in every stone, evoking a sense of wonder that captivates the hearts of visitors from afar.
As the ISF World School Championship commences, the atmosphere at the opening ceremony hums with palpable excitement, drawing in participants and spectators alike. With smiles as radiant as the Saharan sunrise, the Moroccan people proudly embrace their role as gracious hosts, creating an atmosphere of genuine friendliness that makes every guest feel right at home.
Amidst the opening ceremony's grandeur, a symphony of cultural entertainment unfolds, showcasing Morocco's diverse heritage. The rhythmic beats of traditional drums intertwine with the graceful movements of belly dancers, casting a spell of enchantment over the crowd. The colorful array of traditional attire paints a mesmerizing tableau, a testament to the country's rich and deeply-rooted customs.
Yet, beyond the allure of its cultural display, the ISF World School Championship stands as a symbol of Morocco's unwavering love for its nation and its enduring passion for sports. The commitment to hosting this prestigious event echoes their dream of one day welcoming the FIFA World Cup, an aspiration they nurture with undying fervor.
Amidst the fervent cheers and enthusiastic chants, a special moment takes center stage as the name Gambia was echoed loudly into the crowd and its flag could be seen high into the heavens. Like a soaring phoenix, it captures the essence of The Gambia – the smiling coast of Africa. This gesture serves as a reminder that the tournament is not just about competition, but a bridge that unites nations, celebrating diversity and brotherhood.
The proper coordination of the event is a testament to Morocco's meticulous attention to detail, leaving no stone unturned in ensuring a flawless experience for all. From the smooth logistics to the world-class facilities, every aspect reflects the kingdom's commitment to delivering an unforgettable championship.
As the sun sets over the horizon, casting hues of gold and amber across the Moroccan skyline, the ISF World School Championship commences with unparalleled grandeur and warmth. In this magical land of history, hospitality, and sportsmanship, Morocco has woven an enchanting tale that shall linger in the hearts of visitors long after the final whistle blows"