First  Gambian female football administrator bags  the FIFA Masters accolade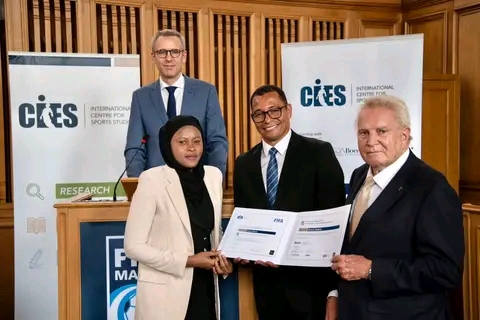 The Gambia Football Federation says they are delighted to announce that their  Assistant Women's football Coordinator Veronic Aisha Malack has completed her studies in Management in FIFA Masters at Neuchatel University in Switzerland.
This international Master in Management, Law and Humanities of sport is organized by the International Centre for Sports Studies ( Cies) in partnership with three universities De Montfort University in Leicester (England), SDA Bocconi School of Management in Milan (Italy), and the University of Neuchatel ( Switzerland).
Veronica Aisha Malack was encouraged by the leadership of the GFF to pursue the program and become the first Gambian to accomplish such a prestigious accolade.
The GFF reveals that as part of her period of study at the three universities in England, Italy, and Switzerland, the Gambia Football Federation was responsible for her full board in living costs, flight tickets, and other essential costs. Through the efforts and intervention of the GFF, Veronic Aisha Malack was able to receive further financial support in terms of tuition fees through the International Centre for sports studies (CIES ) and FIFA.
"Upon completion of her studies, our Assistant Women's football Coordinator becomes the first Gambian female football administrator to bag the FIFA Masters Alumni. The GFF in this regard, is extremely proud of her achievement in this program that shows our commitment to advancing the capacity intellect of our human resource base. We pride ourselves on the premium we placed on the advancement of our staff for their technical and academic competencies and hence the positive results gained at our various competitive engagements amongst our colleagues across the region and the world at large. "
The FIFA Masters is created to promote management education within the sports world. It has grown to become a top graduate program developing managers who can cope with the increasingly complex world of sports. While we congratulate Veronic Aisha Malack for her deserved completion of the program, we welcome her back to Football House and expect that the knowledge gained would be beneficial to Gambian football, particularly women's football development.