"Mangroves are key to reducing the impacts of the climate crisis"-UNESCO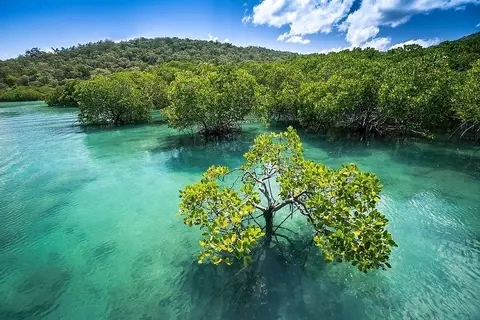 As the World Observes Mangroves Day today, UNESCO calls for holistic efforts to preserve the plant.
"Mangroves are rare, spectacular, and prolific ecosystems on the boundary between land and sea. These extraordinary ecosystems contribute to the well-being, food security, and protection of coastal communities worldwide. They support rich biodiversity and provide a valuable nursery habitat for fish and crustaceans. Mangroves also act as a form of natural coastal defense against storm surges, tsunamis, rising sea levels, and erosion. Their soils are highly effective carbon sinks, sequestering vast amounts of carbon.
Yet mangroves are disappearing three to five times faster than overall global forest losses, with serious ecological and socio-economic impacts. Current estimates indicate that mangrove coverage has been divided by two in the past 40 years.
Mangroves are key to reducing the impacts of the climate crisis and extreme weather events. Yet, they are under threat.
Mangroves are mighty. These trees grow in saltwater with distinctive roots that sprawl above and below water in thick, muddy soils. Not only are they unparalleled for forests storing carbon, which helps fight the climate crisis, but they also sustain life for humans and an array of animals and plants that live in oceans and rivers. "
Source: UNESCO.