President Weah confers 'Order of the Knighthood of the Pioneers' award on President Barrow.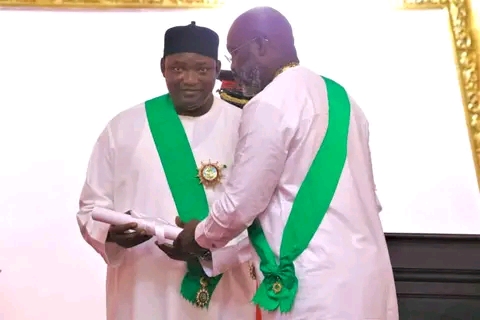 In a colorful ceremony marking the 176th Independence Anniversary of the Republic of Liberia, in Monrovia, President Adama Barrow was conferred with the Grand Cordon, Most Venerable Order of the Knighthood of the Pioneers(GC-MVOKP), by the President of Liberia, H.E George Manneh Weah.
According to the citation, President Barrow is a distinguished person who has been serving God and Humanity through his political leadership. Also, his efforts to restore The Gambia's image in the comity of nations inspired other African leaders. He has also been recognized for restoring The Gambia's democracy and security sector reform.
The citation also highlighted President Barrow's contribution to peace, security, and development in the ECOWAS sub-region.
President Barrow was awarded alongside the Ghanaian President H.E Nana Akufo-Addo and other distinguished personalities in Liberia and beyond.