NYC Inaugurates the West coast Region Youth Committee.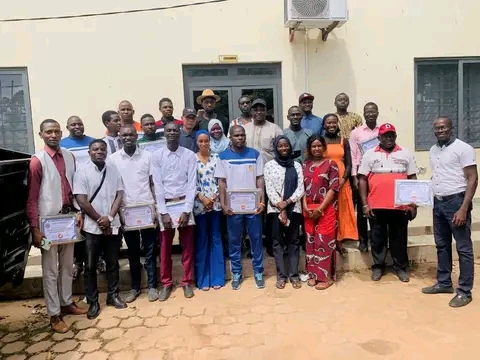 Today the 29th July, 2023, the Regional Youth Committee was inaugurated by the National Youth Council (NYC ) at the Brikama Area Council Hall. The inauguration was attended by the Hon. Governor of West Coast, the DPS of Youth and Sports, the Executive Director and the Chairperson of NYC, Assistant Youth Coordinator WCR, The Regional Chairperson of WCR, and the Youth representatives from various Districts within West Coast Region.
The Executive Director of the National Youth Council chaired the inaugural proceedings. He thanked the regional Youth Committee for the Sacrifices and the representation of the young people in west coast Region.
The Chairperson of the National Youth Council (NYC ) gave an inspiring speech, encouraging the Regional Youth Committee (RYC ) to work together and serve the interest of the young people of the region. She emphasized that leadership is not easy but it is expected of them to serve their people well and deliver to expectation. She also assured the RYC of her open door policy and encouraged them to knock on her door when ever needed.
The Director of planning and programs of MoYS gave a speech on behalf of the minister of Youth and Sports, he congratulated  the RYC and encouraged them to work closely with the regional staff of the ministry in order to register success in their activities.
On the other hand, the Governor of the region , Hon. Bojang, in his concluding remarks, expressed so much delight and extend gratitude to the Regional Youth Committee for being so supportive. He stressed that the youth are on the right path and that this is a beacon of hope.
The Governor compliment the  commitment of NYC and the government towards empowering and supporting the youth. The Regional Youth Committee is poised to make a positive impact in the lives of young people in the region and we look forward to seeing their progress in the coming years.
Finally, he urged the RYC to tirelessly lead the youth of WCR because this is an opportunity that many wish they could get. He also encouraged the youth to be comfortable to be everywhere and he will do everything humanly  possible to support the young people especially the RYC in achieving its plans and programs.
In sequel, the Chairman of the Regional Youth Committee expressed his gratitude towards the members of the high table for their attendance and thanked his various district youth chairpersons for their dedication towards the service of the youth. He thanked all the stakeholders for the cordial relationship and collaboration.
After all the speeches, Certificates were given to the previous committee for their relentless service to the young people of the region.