Gambian Authorities surprised with CAF's preliminary decision  on Independence Stadium.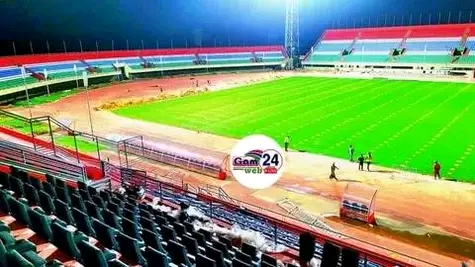 "Following the Confederation of African Football – CAF's declaration that The Gambia's Independence Stadium along several other African stadia are unqualified to host CAF/FIFA football matches, The Gambia Government through the Ministry of Youth & Sports (MOYS) engaged the Ministry of Works, Transport and Infrastructure as consultants for the stadium's modernization. Subsequently, two contractors were hired for the renovation and remodeling works from January 2023 to July 2023.
To ensure compliance with the CAF requirements, MOYS engaged the continental football body which delegated one Mr. Muhammad F. Sidat, Head of Professional Football to conduct its preliminary inspection on 15th July 2023. The CAF delegate met the respective stakeholders and discussed additional works necessary before final inspection by the first week of August 2023.
Other major areas of improvement are to be implemented in the long term. Mr. Sidat reaffirmed that a CAF Inspector will come to Banjul during the first week of August for the final inspection after which, a decision on the Independence Stadium's eligibility for CAF/FIFA matches would be taken.
To our utmost surprise, in CAF's Preliminary Inspection Report dated 21st July 2023, it declared "the Independence Stadium unqualified to host our match."  Sequel to the receipt of the report, the Ministry of Youth & Sports sent a letter to CAF through the GFF, reminding them that Mr. Sidat's visit was purposely a preliminary inspection at our request and therefore, a prelude to a proper decisive inspection. Notwithstanding our letter, CAF maintained its decision, leaving us with the only option of playing our match against Congo Brazzaville outside The Gambia
In light of this unfortunate decision of CAF, the Ministry, after a meeting with GFF explored the opportunity of playing in neighboring Senegal. However, the GFF had expressed preference and made arrangements for the match to be played in Morocco citing technical and logistical reasons as recommended by the Head Coach and his Technical team.
While we regret having to play outside The Gambia, we want to once more express our strong commitment to ensuring the identified additional works are carried out to conform to international standards for hosting future matches.
The Government of The Gambia through the Ministry of Youth and Sports calls on all sport enthusiasts to exercise further patience as we work on the new areas of modernization highlighted by CAF."