The Gambia Sides with ECOWAS in Maintaining Constitutional Order in the Sub-region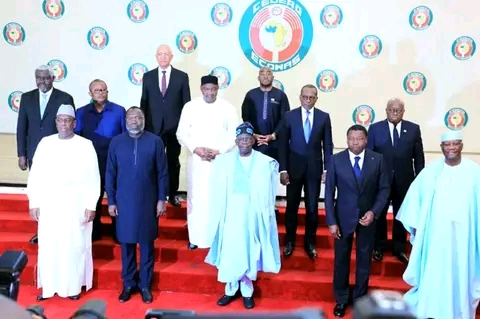 H.E President Adama Barrow Sunday 30 July, joined fellow Heads of State at an Extra-Ordinary Session in Abuja, Nigeria, on the Situation in Niger, where the military recently overthrew a democratically elected President.
The Gambia President noted with concern the recent trend of military take-overs in the ECOWAS region, threatening national and regional peace, stability and development. He called on the regional organization to work on their earlier recommendations for a Stand by Force, and enhance dialogue through diplomacy and good neighbourliness for the states and their peoples.
The ECOWAS block, until recently, stabilized on democratic governance and became a beacon of hope for the continent, experiencing countries transitioning from one democratic government to another. The successful elections in the various countries have given hope to the citizens of ECOWAS that with stability, good governance, socio-economic development would be fast-tracked.
The Abuja Summit was a renewal of hope for the citizens of the block, commitment to the rule of law and upholding of good governance through constitutionalism. The ECOWAS Protocol on Good Governance already set the pace for member states to focus on democratic processes.
The Chairman of the ECOWAS Authority, H.E Bola Ahmed Tinubu, in a frank remark at the opening of the Summit, said the presence is respect for democracy and must show a commitment that "without freedom and democracy there can't be any development. There must be a strong act to protect the life of H.E Bozzoum and make sure he is safe and democracy is restored in the Republic of Niger. No more time to send a warning signal; it is time for action".
The Final Communique affirms that H.E President Mohamed Bazoum remains the legitimate elected President of The Republic of Niger recognised by ECOWAS, AU and the International Community.
Details from the Abuja meeting are in a Communiqué released by the ECOWAS Commission