The Presidential Council: A Collective Commitment to Consolidate Peace, Security, stability, and Prosperity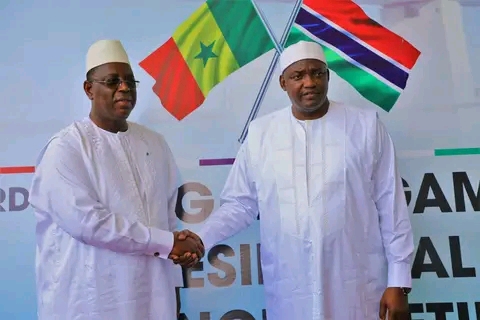 President Adama Barrow Tuesday co-chaired the 3rd edition of the Senegalo-Gambian Presidential Council Meeting with his Senegalese counterpart President Macky Sall held at the Sir Dawda Kairaba Jawara Conference Centre in Bijilo.
The Presidential Council Session was preceded by the Ministerial Committee Meeting on 31st July 2023 and an Experts meeting on 30th and 31st July 2023.
The Biennial gathering was initiated in 2018 through a common will by the two Heads of State to strengthen the fraternal ties between the two countries in various areas of socioeconomic development.
In his statement at the meeting, President Barrow said, ''This Meeting provides us with a valuable opportunity to review the agreements and commitments concluded during the Second Presidential Council Meeting held in Dakar in 2020 and foster a more robust and mutually beneficial relationship.''
The President added that the initiative has consolidated and accelerated the implementation of important bilateral commitments. ''Senegal-Gambia relations offer us a springboard and a shining example for Africa's transformation.''
Both leaders renewed their commitment to a unified and prosperous Senegambia based on mutual trust and benefit.
The conclusion of the session witnessed the signing of a joint communique and several bilateral agreements in ;
➡️Double Taxation Agreement for the Prevention of Fiscal Evasion with respect to taxes on income,
➡️Judicial Cooperation on Civil and Commercial Matters,
➡️Bilateral Air Service Agreement,
➡️Memorandum of Understanding on Domestication of the Dakar-Banjul Air Corridor,
➡️Memorandum of Understanding in the field Health and Social Workers.
➡️Memorandum of understanding between the Chamber of Commerce, Industry and Agriculture of Dakar (CCIAD) and the Chamber of Commerce and Industry of The Gambia.
The two Heads of State renewed their directives to their respective Governments to ensure the rigorous and diligent implementation of the recommendations and agreements resulting from the Council.