Senegalese website editor jailed for third time in less than a year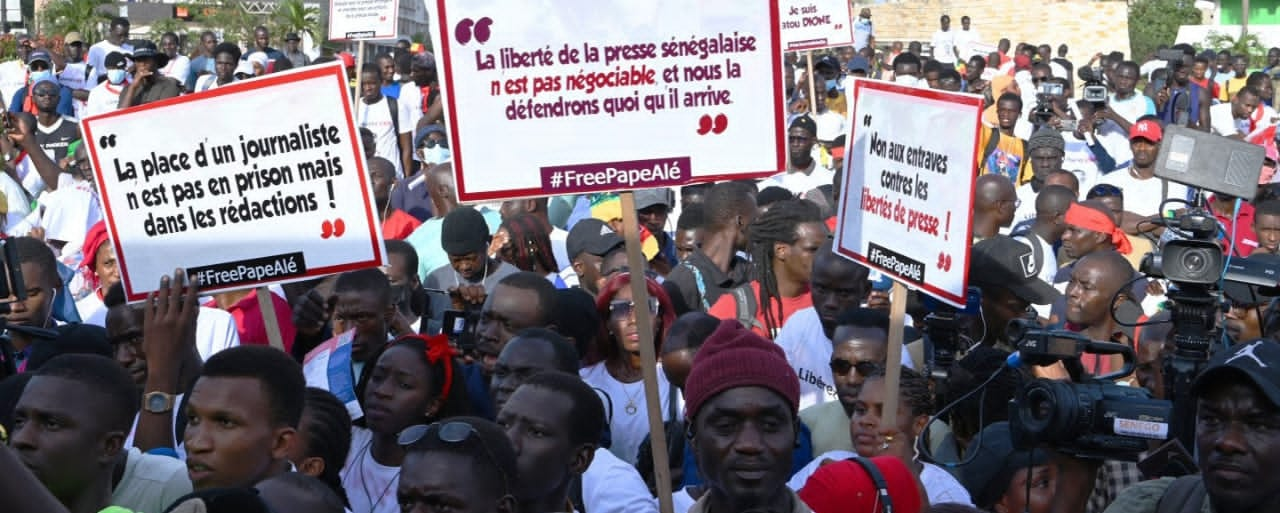 Reporters Without Borders (RSF) calls for the immediate release of Pape Alé Niang, the editor of the Dakarmatin news site, who has just been detained arbitrarily for the third time in less than a year. The judicial persecution of this outspoken website editor, reporter and columnist must stop, RSF says.
When brought before a judge in the capital, Dakar, two days ago (1 August), Pape Alé Niang was placed in pre-trial detention on a charge of "calling for insurrection" in the comments he made in a live broadcast on his website's Facebook page about opposition politician Ousmane Sonko's arrest on 28 July. Sonko's arrest was followed by the suspension of mobile Internet for "security reasons."
As a result of the effects of the hunger strike Niang began when taken into police custody on 29 July, he has been transferred to a special wing of the Aristide le Dantec Hospital in downtown Dakar, his lawyer, Moussa Sarr, said.
"Pape Alé Niang is being singled out by the authorities because of his journalistic work and his outspoken style. This latest arrest is the third in just ten months. This judicial persecution must stop and Pape Alé Niang must be freed at once."
Sadibou Marong
Director of RSF's sub-Saharan Africa desk
This latest round in the persecution of Niang began on 29 July, when he received a summons to report to the police the next day. He was nonetheless arrested when police raided and searched his home later on 29 July. When taken into police custody, he immediately began a hunger strike, his third since the authorities first began arresting him in November 2022.
Niang began his first hunger strike after being placed in prison on 9 November 2022 on various spurious charges including "disseminating information endangering national security." He was released provisionally on 14 December but was re-arrested six days later, whereupon he began a second hunger strike to denounce the arbitrary nature of these arrests. He was finally released on 10 January but was placed under strict judicial control that included a ban on leaving the country and a ban on talking about the case.
His latest arrest has come at a time of political tension. Sonko, the politician arrested on 28 July, is President Macky Sall's leading opponent. He was placed in pre-trial detention on 31 July on eight charges including "calling for insurrection" and "conspiring against state authority." Following his arrest, the interior ministry announced the dissolution of Sanko's party, PASTEF.
For the second time in less than two months, the Minister of Communications, Telecommunications and Digital Economy announced the suspension of mobile phone Internet access on the grounds of limiting the spread of "hateful and subversive messages via social media when public order is liable to be disturbed." RSF condemns this flagrant violation of the public's right to news and information.
Senegal ranks 104th in RSF's Press Freedom Index for 2023.