Gambia-USA excellent ties continue to flourish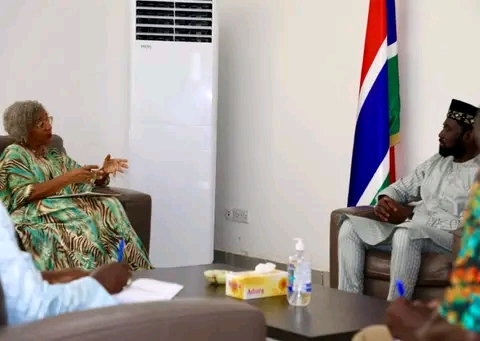 The Honourable Minister of Foreign Affairs, International Cooperation and Gambians Abroad His Excellency Dr. Mamadou Tangara has received the Ambassador of the United States of America to The Gambia, H.E. Sharon L. Cromer, on Friday 4th August 2023 in his office in Banjul.
During the meeting, Ambassador Cromer reiterated the excellent bilateral relationship between The Gambia and the USA and assured the Hon. Minister of a deeper and strengthened cooperation between the two countries. She said despite the incident that occurred at The Gambian Embassy in Washington DC, the relationship between the two countries is "stronger than ever".
"I'm pleased that our relationship is deepening" posited Ambassador Cromer.
Ambassador Cromer also acknowledged the leadership role played by the Gambia government in handling the incident that happened in Washington DC.
FM Tangara emphasized on the long-standing relationship between The Gambia and the USA and how the two countries have collaborated to promote peace, security, and development in the country and globally. He recognised the role that U.S. played during the political impasse in 2016, and the involvement of the then US Ambassador to The Gambia and other US Officials.
The Foreign Minister also assured Ambassador Cromer of conducting a thorough investigation into the unfortunate Washington incident, pointing out that government has taken the matter with great seriousness.
He reiterated The Gambia's gratitude to the Government and people of the United States and reassured them of continuous friendship and partnership for the benefit of the two counties and peoples.
The two sides discussed at length ways and means in promoting the already cordial bilateral relations that exist between the two countries.