GTBoard showcases the smiling coast as  Miami -Dade County officials visit Banjul.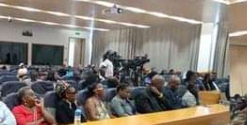 The Mayor of Miami- Dade County and the Miami County officials,as part of their recent two day visit to the Gambia,shared with Gambia Tourism Baord,the traveling and hospitality facilities in their homeland.
At a special dinner which also show presentation of certificates of appreciations, the GTBoard ,GEIPA amongst others, delivered presentations,promoting the Gambia as a viable Tourism destination.
The event which was presided by the honourable minister of Tourism and Culture, Hamak MK Bah  also witnessed show of appreciation from both the Miami- Dade County officials as well as their Gambian counterparts.
The minister louded the initiative of the visiting delegation but pointed out the Gambia will not grant automatic citizenship to anyone but due process has to  be followed. He commended the GTBoard for their  hardwork and the wonderful event.
The event which was held at the Sir Dawda Kaitaba Jawara Conference Centre was  attended by GTBoard officials as well as tourism stakeholders
The Gambia Tourism Board,continues to explore all avenues to sell the smiling coast in terms of endless possibilities for leisure, holidays just to mention a few.