ECOWAS Commission briefed ambassadors on the implementation status of the regional early warning and response mechanism.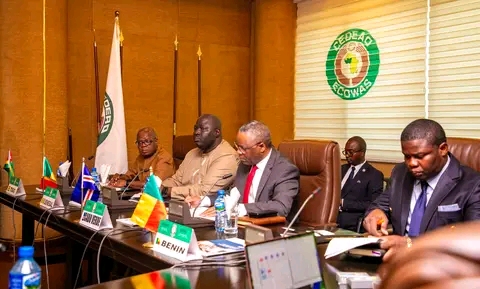 The Vice-President of the ECOWAS Commission, H.E. Mrs Damtien L. Tchintchibidja has briefed Ambas-sadors of the Republics of Togo, Benin, Senegal, and Cabo Verde on the implementation of the ECOWAS Early Warning and Response System, which would shortly commence in their countries.
The core objective of the briefing is to charge the ambassadors to support their respective Member states in creating a National Task Force, which will work in tandem with the ECOWAS Commission to establish a National Centre. This National Centre will receive technical, analytical, and operational assistance from the Regional Early Warning and Response Centre.
Mrs. Tchintchibidja, the Vice-President of the ECOWAS Commission, commended the Ambassadors for attending the briefing stating that ECOWAS and its Member States must collaborate for success. She noted that 11 National Centers in the region are fully operational and work in synergy with the Regional Early Warning Centre based in Abuja.
Considering the prevalence of misconceptions about the goals of the Regional Early Warning and Re-sponse Mechanism, the Ambassadors strongly urged ECOWAS to develop a comprehensive Communica-tion Strategy and Plan. This strategy would serve to enhance public knowledge and ensure the effective dissemination of accurate information pertaining to the initiative.