"This camp will equally provide a platform to explore youth's potential…."WCR Youth chair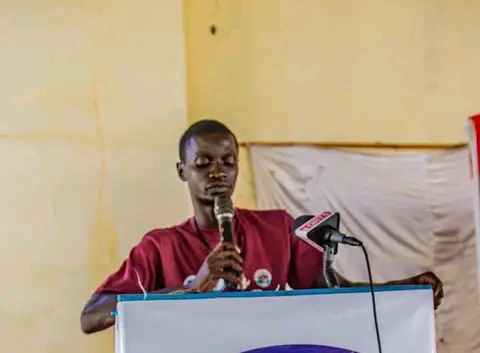 Lamin K Sanneh, Chairperson of the West Coast Region Youth Committee addressed the WCR Youth Camp, speaking at length on the rationale of the convergence. Mr Sanneh who is serving his 2nd term as Chairperson
expressed gratitude to various stakeholders for their support while emphasizing the zeal of his youths to participate in the camp.
The youth camp which ends on the 8th of September is currently underway at Kinderdorf Bottrop Technical Senior School grounds, Brikama.
"Today's event begins a  week-long camp filled with engaging activities, learning opportunities, and meaningful discussions. Over 225 Youth is officially expected to take part. This camp will provide a platform to explore youth's potential, develop their skills, and foster collaboration with like-minded peers. Throughout the week, a wide range of activities will be hosted, including workshops, team-building exercises, outdoor adventures, and insightful discussions.
We believe that this camp will bring significant change and allow youth to learn, develop, and make a significant impact. Honourable Minister, the different thematic areas going to be covered during this eight-day camp include Leadership, Gender issues, Migration, Entrepreneurship, Sports Administration, Peace and Security amongst others."
WCR Youth chair further stated that this  year's Regional Youth Summer Camp between 1-8 September is on the theme; "Challenge today, Change Tomorrow for a Better Youth Empowerment and Development in The Gambia," The  camp he added, aims to empower and inspire young individuals to contribute to our communities challenges and also create a platform for young people to have an interface with its Regional Authorities to confront our community's food security among a myriad of challenges
"As the bastion of Youth Empowerment, The young people of the West Coast Region have a keen interest in fully taking part in all the above thematic areas. The Local Organizing Committee has arranged for high-level experts to interact with young people during the sessions.
The eight-day stay will also include sporting games and cultural displays. As the best Region in the past National Youth Conference and Festival Cultural Dance and many more major events, we are consolidating a dynamic young cultural team and other competitive areas ahead of next year's Nayconf in April. I want to assure you all we will be untouchable come next Nayconf with our current plans in place"
Mr Sanneh lamented the lack of multi-purpose youth centres across the region while soliciting extra support from the youth ministry.