African Leaders adopted  the Nairobi Declaration on Climate change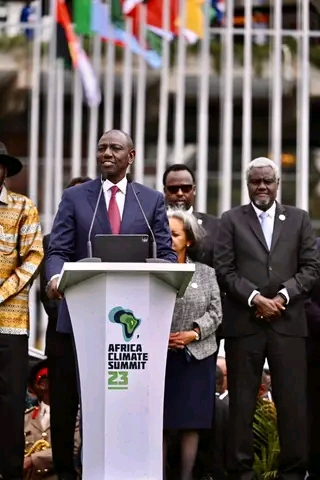 His Excellency, President Republic Of Kenya and Chairman of CAHOSCC at the African Union Dr William  Ruto leads Heads of State and Government in unveiling the 'African Leaders Nairobi Declaration on Climate Change and Call to Action as the curtains come down on the 3-day inaugural Africa Climate Summit.
"The Nairobi declaration we make to the world today defines and amplifies the African position on the way forward in climate action, and the fundamentals that the international community must attend to ensure that humanity's economic and ecological imperatives are effectively, coherently, and sustainably achieved."
The declaration marks the beginning of a new chapter in socio-economic transformation with a uniquely African perspective.
The Africa Climate Summit, Day 2, was marked by significant milestones and impactful discussions. African Heads of State and Government gathered to share their nations' climate change declarations, and some historic moments occurred as these declarations were signed on the floor. This day was a testament to the commitment of African leaders to address climate challenges head-on.
It emphasized Africa's readiness to take control of its destiny as a green leader and economic powerhouse. It underscored the continent's commitment to proactive climate action, paving the way for a more sustainable and prosperous future.