The Gambia and FAO sign horticulture project for rural women and youths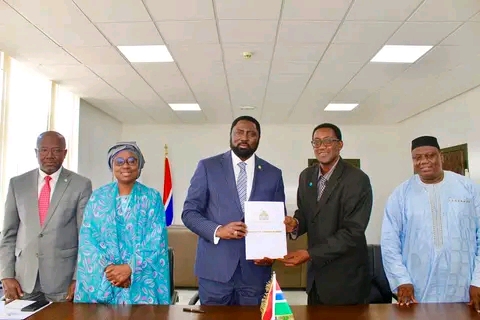 Minister of Foreign Affairs, International Cooperation, and Gambians Abroad, H.E Dr.Mamadou Tangara yesterday signed the first component of the US$1.9 million grant Garden Project with the United Nations Food and Agriculture Organisation to support rural women and youths to boost vegetable production in 14 selected communities.
The horticulture project, titled Enhancing Vegetable Production and Processing for Rural Women and Youth in The Gambia, is being funded by the Governments of India, Brazil, and South Africa Facility for Poverty and Hunger Alleviation (IBSA Fund) under the United Nations South-South Cooperation Office to support food security and nutrition and poverty alleviation among rural women and youth in The Gambia through its South–South Corporation framework.
This component will be implemented through the Ministry of Gender, Children and Social Welfare and FAO will provide technical assistance to increase production of basic agricultural commodities for enhanced food and nutrition security. The project is also earmarked to promote commercialization, value-addition, and marketing.
The horticulture sub-sector makes up 65% of the agricultural labour force, thereby employing more than 43% of the total working population. Small-scale vegetable production is predominantly dominated by women. The sub-sector has a vast potential to support sustainable economic growth. It is capable of providing opportunities for diversification and the generation of sustainable income for women to reinforce rural household incomes.
However, the sector is grappling with major problems, including limited access to water and irrigation, while limited access to the market and lack of adequate storage facilities to preserve the produce equally continue to impede growth in the sector. The two-year project is expected to address these constraints affecting women and youth in the horticulture sub-sector within the selected communities.
It is also aimed at boosting the country's drive for food self-sufficiency and providing jobs to deter young people from risking their lives on perilous journeys to Europe.
This project component, costing US$954,915.00 (about D55,000,000.00), comprises four main areas; Production Support, Value Addition, Marketing, and Monitoring and evaluation.
The project was initiated and facilitated by Ambassador Lang Yabou, Permanent Secretary 1, Ministry of Foreign Affairs in 2022 while serving as Ambassador and Permanent Representative of The Gambia to the United Nations in New York.
The signing ceremony at the Headquarters of the Ministry of Foreign Affairs was witnessed by Hon. Mrs Fatou Kinteh, Minister of Gender, Children and Social Welfare, Permanent Secretary, Ambassador Lang Yabou, Mr Kajali Sonko, Deputy Permanent Secretary Technical, Ministry of Gender, Children and Social Welfare and Dr Mustapha M.  Ceesay, FAO Assistant Country Representative and Head of Programmes.