President Barrow launches Accessible Smart Family Project.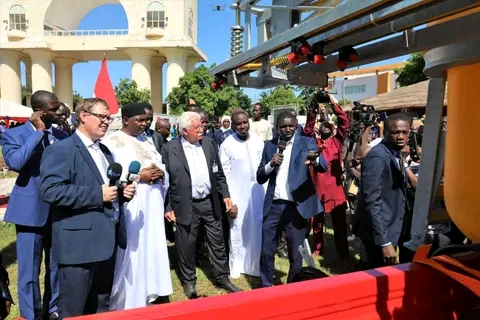 the launch of the Accessible Smart Farming Projects earlier today, President Barrow reflected on his promises to Gambians to make farming easy to ensure food security in line with Sustainable Development Goals.
"In my last inaugural address, I made a solemn and sincere oath to the Gambian nation. After five years as President, my understanding of the challenges of our people and the operations of the state prepared me immensely to work towards fulfilling my promises to the people.
"My oath and the address that followed resulted from thorough reflection and assessment of my government's achievements and shortcomings during my first term in office.
Weighing on my commitments as Head of State, I have since resolved that my administration, in fulfilment of its mandate, must strive to do its utmost to seek support and harness the resources at our disposal for the attainment of our national vision and commitments.
Whilst our development strides are guided by the Sustainable Development Agenda 2030 and Agenda 2063, my government understands that we must, as a country, focus our development agenda on our local context.
To contextualise our development efforts and enhance popular participation, we developed the 2018-2021 National Development Plan, which has been succeeded by the current Green Recovery Focused National Development Plan. These plans feed neatly into our long-term Vision 2050.
My government realises how urgent it is to translate these plans into concrete action that benefits and cuts across the length and breadth of the country. We know that the impact of our decisions will be felt countrywide.
More profoundly, we rerecognizehat our decisions and actions will most certainly impact the current generation as well as generations to come.
This makes it necessary to act fast but wisely and appropriately to register successes with far-reaching impact on the citizens.""