UN Secretary-General states that  Russia's invasion of Ukraine  violates the "UN Charter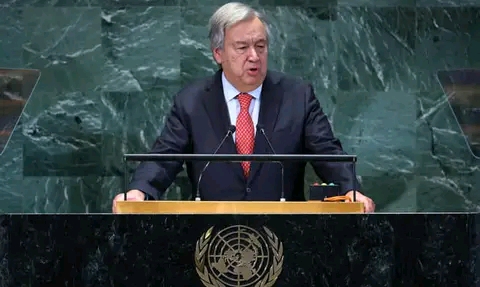 United Nations Secretary-General Antonio Guterres cries over the waning powers of the United Nations and pleads to the global leaders for a unipolar world where the international community would agree on a common goal and target to overcome the shortfalls of the 21st century rather than creating a multipolar world. He highlights Russia's invasion of Ukraine; as it violates the "UN Charter; of ruled based international order."
The UN chief characterized Russia's invasion of Ukraine as a nexus of horror to global peace, including climate change and increasing geopolitical tensions and challenges mounting in today's world. The UN chief vehemently denounced factional international groups including G7, G20, and G77, and called for G193, which is the unipolar world of 193 members of the United Nations.
In this year's General Assembly, the oxygen is sucked out of the room, as leaders of four of the five Permanent Members are not present in New York. The United Nations is at a tight corner and sees a wall closing in. The General Assembly for 78 years gives the politicians a photo-ops opportunity, with no clear intent of putting the words into action.
The mounting conflicts and global hegemony of big powers each bolstering its international stance overshadows the power of 193 members United Nations, for 78 years, the UN has been a circus-like atmosphere; all talk, no action; early bananas, singularly the United Nations' fault. The United Nations is a paper tiger, with very many teeth, but it cannot bite.