President Barrow launches SOS Children's Villages Global YouthCan project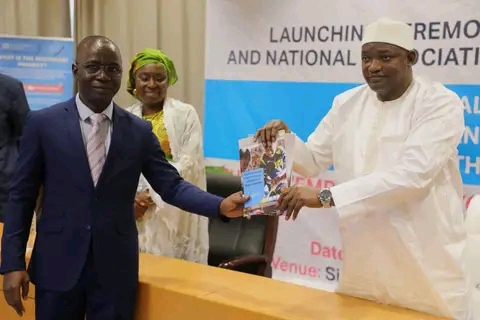 President Barrow on Monday launched the   SOS Children's Villages Global YouthCan! Project and 5-Year Strategy 2023-2027 at a ceremony held at the Sir DK Jawara Conference Centre, Bijilo.
"It is heartwarming to be present in this event and quite comforting to confirm that the SOS Children's Villages in The Gambia have partnered with the Government of The Gambia for over forty years now.
During this period, they have complemented Government efforts by supporting vulnerable children, young people, and families to make them happy and self-reliant persons."
President Barrow said it is widely known that the SOS Villages provide access to essential services, such as protection, education, health, emergency relief, and alternative care for children who either lost or are at risk of losing parental care.
"This truly philanthropic group has supported the Government in its desire to meet its national and global targets in various ways. This has been achieved through the enactment of Child and Youth-friendly laws or instruments in the country."
He stressed that the enactment of the Children's Act 2005, the Sexual Offences Act 2010, the National Youth Policy 2019-2028, the Women's Act 2010, and the creation of the National Youth Council are examples of such instruments and bodies that have links with SOS.
" As many of you know, each of these is geared towards ensuring that our children and young people have maximum protection and are empowered to grow in a safe environment to become responsible and productive citizens."
President Barrow highlighted that  the Government of The Gambia has given a lot of prominence to young people by creating a Ministry responsible for youths and youth-related matters,He added
shows the unflinching commitment of the Government to the wellbeing of young people.