Gambia Football Federation commends Kifa for his positive role in Sports development.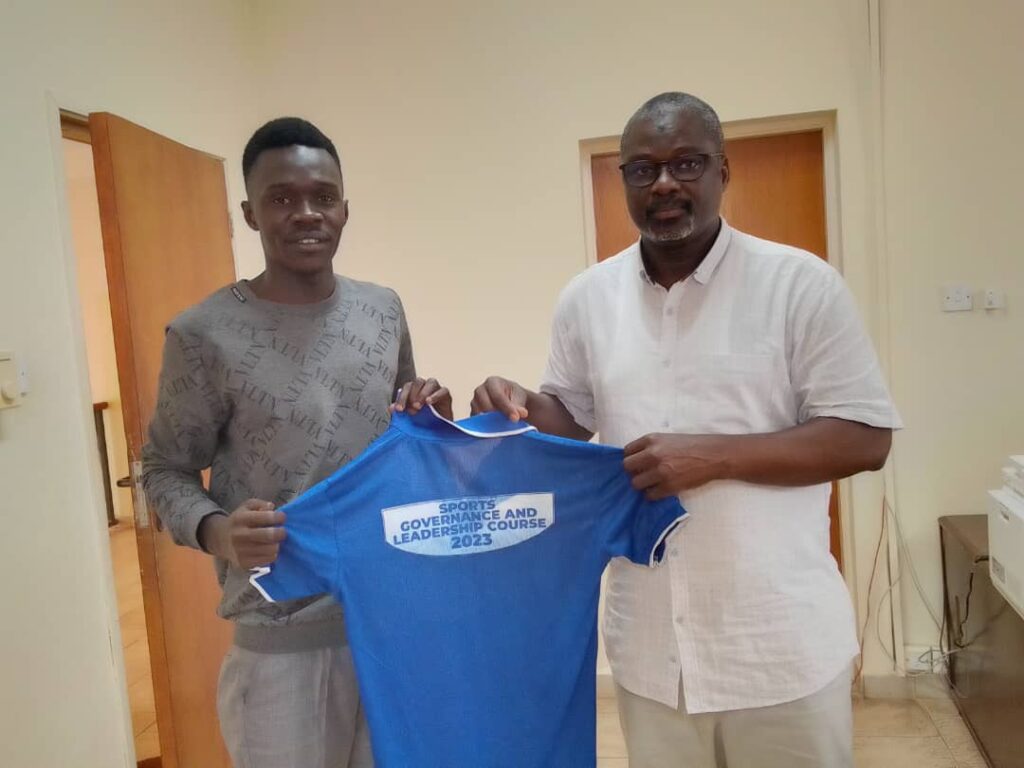 The Gambia Football Federation Boss, Lamin Kaba Bajo on 25th October invites Mamour. M Mbenga alias Kifa Barham in his office to complement him on his recent achievement on his course program on Sports Governance and Leadership from Ghana at the National Sports College.
Mr Kaba embrace and highly complement the aspiring sports development manager to continue the hard work  and effort done in his development activity programs.
Mr. Kaba seize the opportunity to congratulates Mr.
Mbenga on his recent appointment as the Official Brand Ambassador of the Drug Law Enforcement Agency.
He urge and encourage the sports  enthusiast to share and continue to contribute his quota to the development of football.
Mr. Kaba said the Federation is promoting and encouraging sports education and young leaders with human resources.
Adding that this is another great opportunity to see that young people are contributing their effort to develop others through there acquired knowledge in sports.
He assured the Federation support to Mr. Mbenga and other related  partnership development programs.
The FA President shown interest of the Anti – Doping Policy and illicit drugs abuse.
He calls on stakeholders responsible for illicit Drugs and Crimes to come under one umbrella to address the issues of abating drugs in Sports specifically football.
He discussed with Mr. Mbenga for a joint collaboration in order to sensitize athletes the dangers of illicit drugs their careers.
Mr. Mamour. M Mbenga Dleag Brand Ambassador calls the kind gesture timely and assured the federation his concern to participate in any development programs that could more changes to the football industry.
Mr. Mbenga raise concern on athletes wellbeing on the use of illicit drugs and other related affected substance use.
He promise to engage partners and other drug  responsible stakeholders to implement such initiative and make it successful for the benefit of the society.
Last year, Mr. Mbenga accomplished and obtained a six months Advanced Certificate Program on Football Business Management and HR at the Valley View University in Dodowa(Ghana).
He is currently managing and developing  young athletes in various clubs and communities at large.
Kifa a young prominent Journalist is the CEO of Dolphin Stars F.C, a grassroots football club residing in the Gambia.
He is using sports as a tool of mechanism to address social problems like drugs, crimes and the back way syndrome.
He believes that young people should be engage in development activity programs and that will minimize their involment in such crimes and the risk of many suicidal behaviors.